"What the Drilling Industry has Bought and Paid for in Campaign Contributions they shall Receive."
Thursday, February 26, 2015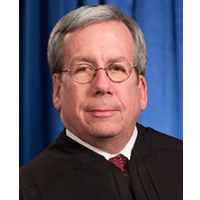 Justice William O'Neill (photo: Supreme Court of Ohio)
An Ohio Supreme Court decision last week compelled a justice to do something few public officials do when it comes to addressing the connection between campaign contributions and political favors.
After the court sided with drillers in a fracking regulation case in a 4-3 decision, Justice William M. O'Neill, who was in the minority, in his dissent wrote that "the oil and gas industry has gotten its way." Even more pointedly, O'Neill added: "What the drilling industry has bought and paid for in campaign contributions they shall receive."
What the industry received was a decision that said local governments cannot ban fracking within their jurisdictions. Only the state has such authority, according to Justice Judith L. French, who wrote the majority opinion.
Catherine Turcer, policy analyst for Common Cause-Ohio who supports greater campaign-finance transparency, told the Columbus Dispatch: "What I liked about Justice O'Neill's opinion was his willingness to point out the elephant in the room."
"In this case, the elephant got almost $1.5 million," Turcer said, referring to the $1.4 million that Ohio's oil-and-gas industry gave in contributions to legislators and other state officials in 2013-14.
French got $8,000 of that money, while another $7,200 was given to another justice who concurred with the majority decision.
In contrast, O'Neill took no money from industry … or anyone else for that matter. "He raised only about $5,000 in his 2012 campaign, all from his own pocket. He did not take a single outside campaign contribution," Darrel Rowland and Jim Siegel wrote at the Columbus Dispatch.
-Noel Brinkerhoff
To Learn More:
Ohio's Oil-and-Gas Industry Donations, Ruling Tied? (by Darrel Rowland and Jim Siegel, Columbus Dispatch)
Ohio Supreme Court: State Controls Fracking (by Julie Carr Smyth, Associated Press)
Ohio Supreme Court Candidate Who Shunned Donations Ends Up Victorious (by Aaron Marshall, Plain Dealer)
Ohio Supreme Court Justice William O'Neill Dissents from Death Penalty Ruling (by Brandon Blackwell, Northeast Ohio Media Group)
Petroleum Trade Association Sues Compton over Fracking Moratorium (by Ken Broder, AllGov California)
New York Judge Affirms Right of Towns to Ban Fracking (by Noel Brinkerhoff and David Wallechinsky, AllGov)