New York Judge Affirms Right of Towns to Ban Fracking
Friday, February 24, 2012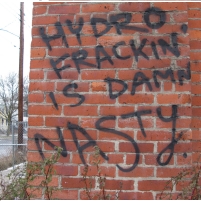 (photo: Shira Golding, Flickr)
For the first time since the natural gas drilling procedure became controversial, a state judge has ruled local communities have the right to ban the use of fracking (hydraulic fracturing) within their jurisdictions, even if the state has authorized it.
The ruling by New York State Supreme Court Justice Phillip Rumsey was made during a legal challenge to the town of Dryden's zoning ordinance that prohibited gas drilling within the township's limits.
Dryden
, with a population of 14,435, is located in Tompkins County, east of Ithaca. Denver-based Anschutz Exploration Corp., which had leased 22,000 acres for natural gas drilling, sued the town, claiming the ban was illegal because state law permitted hydraulic fracturing to take place.
Lawyers representing Dryden countered that New York courts have allowed towns to ban mining and that the same prohibition should apply to fracking. Mahlon Perkins, Dryden's town attorney, says the case is not about fracking. "This case is about land-use authority," he told the Ithaca Journal. "It comes down to whether a municipality that has land-use authority—such as a village, city or town—can determine where heavy industrial uses are allowed or if they are allowed."
Fracking has been a growing concern in New York, where officials have temporarily banned the drilling since 2008 while the state assesses the impact on the environment.
Anschutz is expected to appeal Rumsey's decision, although it has not yet committed to do so.
-Noel Brinkerhoff, David Wallechinsky
To Learn More:
Fracking Linked to Flammable Drinking Water (by Noel Brinkerhoff, AllGov)