Washington State Supreme Court Rules that Swearing at the Police is not a Crime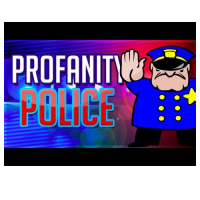 The Washington State Supreme Court has ruled that a person can't be arrested for swearing at police. Even if that person is black.
Police were called to a Seattle residence in 2011 because of a disturbance caused by a teenage girl. When police took the girl outside, her brother, who is black, watched from the porch of the house to ensure that she wasn't beaten by police. He was told to go inside and close the inner door, but refused, watching instead through a wrought-iron door and yelled profanities at the officers. Police closed the inner door several times, but the brother would open it and continue to verbally abuse the police. Eventually, the brother, who was 17 at the time and is referred to in court documents as E.J.J., was arrested for obstruction. He has been identified elsewhere as Eristus Jordan Johnson.
A study (pdf) showed that 51% of those arrested by Seattle police for obstruction were black, even though African-Americans comprise only about 8% of the city's population.
The case eventually made its way to Washington's Supreme Court, which ruled (pdf), "Cases have consistently and strongly held that people cannot be held liable when exercising their right to speak. While E.J.J.'s words may have been disrespectful, discourteous, and annoying, they are nonetheless constitutionally protected."
The Seattle Police Department approved of the ruling. "We support the court's decision," Seattle police spokesman Sgt. Sean Whitcomb told the Seattle Times. "I think all of us in this profession have been yelled at and called things not suitable for a family audience."
E.J.J.'s attorney, Lila J. Silverstein, of the Washington Appellate Project, said her client was only trying to protect his sister. One of the justices agreed he was right to be concerned. In a concurring opinion, Supreme Court Justice Steven Gonzalez, wrote that E.J.J. had reason to be concerned for the safety of his relatives because he "is a young black man in a city where the police have been found by the United States Department of Justice to use excessive force against nonviolent black youth."
-Steve Straehley
To Learn More:
Court: First Amendment Protects Profanity Against Police (by Jennifer Sullivan, Seattle Times)
Police Cannot Arrest You For Watching and Criticizing Them from a Distance In Washington State (by Ansel Herz, The Stranger)