Virginia School Suspends 11-Year-Old for Leaf That Wasn't Marijuana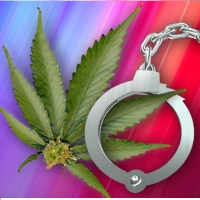 If it looks like pot, it doesn't matter if it's not pot, at least to Bedford County, Va., school officials.
An 11-year-old boy was suspended for 364 days from a school for gifted children after school administrators searched his backpack on a tip and found a leaf that they believed was marijuana. But months later, the boy's parents discovered that the leaf was in fact not marijuana.
It turned out that, unbeknownst to the parents, field tests for the drug had come back negative three times. But even though prosecutors dropped charges against the child, school officials refused to end the suspension.
The school resource officer who pursued the prosecution, Deputy Morgan Calohan, had the boy charged despite the negative tests. It's the fourth time Calohan has made a drug arrest in the two years she's been a resource officer, and it's her 14th arrest in her six-year career in law enforcement.
Now the boy's parents, Bruce and Linda Bays, both school teachers, are suing the school board and the Bedford County Sheriff's Office. They're trying to recover the cost of attorneys and psychiatric care for the boy, who was emotionally scarred by the experience and now attends a different school in the district.
When the boy was first found to have the leaf, there was some question about the circumstances about where school officials found it, and how the leaf and a lighter might have gotten into his backpack. There is some thought that it was put there as a prank on a school bus earlier that day, after which the students who put it there called school officials with the tip.
School officials say it doesn't matter that the leaf was not marijuana; their no-tolerance policy is the same for fake "drugs" as it is for real ones.
-Steve Straehley
To Learn More:
Not-Pot Leaf gets 6th-Grader in Big Trouble (by Dan Casey, Roanoke Times)
Virginia School Suspends an 11-Year-Old for One Year over a Leaf that Wasn't Marijuana (by Christopher Ingraham, Washington Post)
Officer's Drug Arrest Experience in Pot or Not Case (by Angela Hatcher, WSET)
14-Year-Old Builds a Clock, Brings it School, Gets Arrested … Then on to the White House (by Noel Brinkerhoff, AllGov)