U.S. Presidents from the South More Likely to Use Force in Military Disputes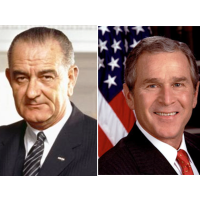 Presidents Lyndon Johnson and George W. Bush
By Mike Cummings, Yale News
The United States is more likely to use force in a military dispute when the president is a Southerner, according to a new study (pdf) coauthored by a Yale political scientist.
The study, published this month in the journal World Politics, argues that "Southern honor" — an ethical code that emphasizes a reputation for resolve — pervasively shapes Southern presidents' approach to disputes with other nations, making those presidents less willing than their peers from northern states to back down during international disputes. Consequently, Southern presidents have been more likely to use military force, resist withdrawal, and ultimately achieve victory, the study finds.
"Our study provides evidence that a president's concern for reputation directly influences how they approach international conflicts," said Allan Dafoe, an assistant professor of political science at Yale and coauthor of the study. "It is something for voters to consider when they go to the polls in the fall — how a candidate's worldview could affect decisions regarding the use of force."
Dafoe and his coauthor, Devin Caughey '04, assistant professor of political science at MIT, analyzed the behavior of U.S. presidents during international conflicts from 1816 to 2010 that involved either the threat of force, a show of force, or the use of force.
Their analysis shows that when militarized disputes occurred under Southern presidents, they were twice as likely to result in the use of force, lasted on average twice as long, and were three times as likely to result in an American victory.
"Our findings are consistent with Southerners being more concerned with demonstrating a reputation for resolve," said Dafoe. "They provide evidence of the powerful influence that concern for reputation has on international conflicts."
The dataset includes 36 presidents and 215 disputes between the United States and another country, as well as 296 disputes between multiple countries in which the United States was an originator of the conflict. Presidents were labeled as "Southern" if they were born and raised in the South, or were either born or raised in the South and had spent their pre-presidential political career there. Eleven of the 36 presidents in the study met these criteria: James Madison, James Monroe, Andrew Jackson, John Tyler, James Polk, Andrew Johnson, Woodrow Wilson, Lyndon Johnson, Jimmy Carter, Bill Clinton, and George W. Bush.
To Learn More:
Honor and War: Southern US Presidents and the Effects of Concern for Reputation (by Allan Dafoe and Devin Caughey, World Politics) (pdf)