U.S. Cities with Highest and Lowest Rates of Gay Populations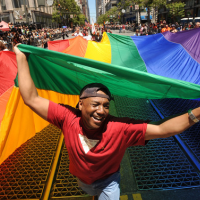 San Francisco Gay Pride parade (photo: Noah Berger, AP)
In what should come as no surprise, the San Francisco Bay Area has the largest percentage of people in the United States who identify as gay, lesbian, bisexual or transgender, according to a new Gallup poll.
The survey found that 6.2% of those in the metropolitan area that includes San Francisco, Oakland and Hayward identify as LGBT. Next on the list is the area that includes Portland, Oregon, at 5.4%. The area with the seventh-highest percentage identifying as LGBT is Salt Lake City.
Despite its status as home base for the Mormon Church, Utah has passed legislation with the support of the church prohibiting discrimination based on sexual orientation or gender identity in employment and housing. The area may also attract LGBT people from other, less welcoming, locations in the West.
The metropolitan area with the fewest who identify as LGBT is Birmingham, Alabama, at 2.6%. Gallup's Frank Newport and Gary J. Gates pointed out that Birmingham has been in the news for the Alabama Supreme Court's efforts to block same-sex marriage in the state. Attitudes such as that might cause those who identify as LGBT to be less forthcoming about their orientation. The Pittsburgh area, which has many senior citizens, was next at 3.0%.
Surprisingly, neither San Francisco nor Birmingham was far off the nationwide average of 3.6%.
-Steve Straehley
To Learn More:
San Francisco Metro Area Ranks Highest in LGBT Percentage (by Frank Newport and Gary J. Gates, Gallup)
The Metro Areas With the Largest, and Smallest, Gay Populations (by David Leonhardt and Claire Cain Miller, New York Times)
Sexual Orientation and Health Among U.S. Adults: National Health Interview Survey, 2013 (by Brian W. Ward, Ph.D.; James M. Dahlhamer, Ph.D.; Adena M. Galinsky, Ph.D.; and Sarah S. Joestl, Dr.P.H., Division of Health Interview Statistics, Centers for Disease Control and Prevention) (pdf)
LGBT Percentage Highest in D.C., Lowest in North Dakota (by Frank Newport and Gary J. Gates, Gallup)