TV Host on Pilgrimage to Mecca Sentenced to Death for Sorcery
Friday, December 25, 2009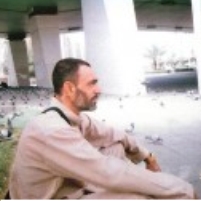 Ali Sibat
One need not be a practicing witch or warlock to run the risk of being charged with sorcery in Saudi Arabia. Case in point: Ali Hussain Sibat, a Lebanese television host who occasionally offered predictions on his show.
In May, Sibat traveled from Lebanon to Saudi Arabia to make his pilgrimage to Mecca and Medina, and after being spotted by the kingdom's religious police, was arrested on charges of committing sorcery. Officials convinced Sibat to confess to talking to spirits—on the promise that he would be freed—and then used his confession to convict him in court last month. He's now been sentenced to death.
According to Amnesty International, arrests such as Sibat's have been on the rise in Saudi Arabia and other Muslim countries. Others charged with sorcery included a Saudi man accused of smuggling a book about witchcraft into the country, an Asian man accused of using his powers to solve marital disputes, and another man for trying to learn magic.
Of the 140+ people on death row in Saudi Arabia, 104 are foreign nationals. The last known execution for sorcery was that of Egyptian Mustafa Ibrahim on November 2, 2007. A pharmacist, he was accused of defacing a copy of the Qur'an.
-Noel Brinkerhoff