Tennessee Lawmaker Urges Citizens to Ignore Traffic Tickets…or Burn Them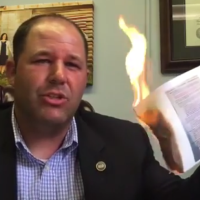 Rep. Andy Holt with his burning traffic ticket (photo: Facebook)
NASHVILLE, Tenn. (AP) — A Republican Tennessee lawmaker says getting a traffic camera ticket isn't a problem — he just burns them.
State Rep. Andy Holt set such ticket ablaze on Wednesday and posted the video to Facebook. A news release issued in conjunction with the Facebook video urges others who are issued traffic camera tickets in Tennessee to ignore them.
"What do you do if you get one? Throw it in the trash. Personally, I prefer to burn mine," he said.
Knoxville Police Chief David Rausch said in an email Thursday to the Knoxville News Sentinel that might not be a good idea. He called Holt's advice unsound.
"No one likes to be caught violating traffic offenses, regardless of how they are caught, but they have a legal obligation to properly address it. Burning a citation or throwing it away is an emotional response that may feel good, but it does not make the violation and accountability go away," Rausch said.
Holt is a longtime critic of traffic camera tickets and has previously called for banning them. In this year's legislative session, he sponsored a bill that requires citations to include the following statement: "Nonpayment of this (citation) cannot adversely affect your credit score or report, driver's license, and/or automobile insurance rates."
The bill passed both chambers and took effect on April 27.
To Learn More:
Rep. Holt Sets Traffic Ticket on Fire (Facebook)