Tanning Salon Operators Sue Cancer Coalition for Defamation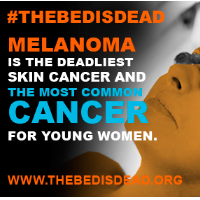 The Nebraska Cancer Coalition is being sued over its "The Bed Is Dead" anti-tanning salon web campaign by a group of salon owners who claim the group is spreading lies about its industry.
The salon owners claim that if their stores are shut down, those wanting tans will be forced to go to the dermatologists and companies providing therapeutic UV light treatment and equipment that are behind the anti-salon campaign.
The salons want an injunction "enjoining defendants from further deceptive trade practices and defamatory statements," and removal of the "false and/or misleading statements" from the website, according to Elizabeth Warmerdam of Courthouse News Service. They also want the coalition to cease and desist from using thebedisdead as a website name and in print, a retraction, costs of suit and damages.
The Nebraska Cancer Coalition isn't backing down, however. "The intent of thebedisdead.org is to inform Nebraska teens and their parents on the potential hazards of excessive ultraviolet radiation exposure and dangers of indoor tanning," President Alan Thorson said. "As the information on the site is supported by well-accepted research and epidemiologic literature, with appropriate references, we will continue to defend the actions and statements made."
The site provides many statistics on skin cancers, including that indoor tanning is linked to more skin cancers than cigarettes to lung cancers. Medical studies appear to support this surprising fact. According to the American Cancer Society, there were 224,210 new cases of lung cancer in the United States in 2014. A study published in JAMA Dermatology journal estimated that more than 419,000 cases of skin cancer a year can be attributed to indoor tanning.
Thirty percent of Nebraska teen girls used tanning beds last year, the Nebraska Cancer Coalition reports. According to the Skin Cancer Foundation, 37% of white female teenagers have used tanning booths.
-Steve Straehley
To Learn More:
Tanning Salons Balk at Ads Linking Them to Cancer (by Elizabeth Warmerdam, Courthouse News Service)
Tanning Salon Owners Sue Nebraska Cancer Coalition (by Dave Roberts, KETV)