Super Bowl Blamed for Increased Influenza Deaths among Seniors in Participating Cities
Wednesday, February 11, 2015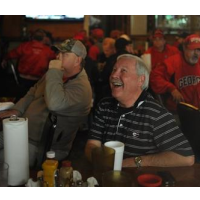 (AP photo)
Having your team in the Super Bowl is great for fans, but for seniors it can be risky.
Researchers at Tulane University and the College of William & Mary studied health statistics over a 35-year period and found more flu-related deaths among seniors in counties with teams in the Super Bowl than in counties whose teams weren't in the game.
"Having a local team in the Super Bowl causes an 18% increase in influenza deaths for the population over age 65, with evidence suggesting one mechanism is increased local socialization," Charles Stoeker, Nicholas Sanders and Alan Barreca wrote in their paper (pdf).
They also found that things were worse during "virulent" flu seasons or when the big game just happened to occur during the peak of an influenza outbreak.
They advised local officials to try "mitigating influenza transmission at gatherings related to large spectator events" in order to reduce contact among residents, which "could have substantial returns for public health."
Oddly, the areas that host the Super Bowl, which are determined years in advance, don't see the same spike in flu-related deaths as the areas the teams represent, according to the report.
-Noel Brinkerhoff
To Learn More:
Success is Something to Sneeze at: Influenza Mortality in Regions that Send Teams to the Super Bowl (by Charles Stoeker, Nicholas Sanders and Alan Barreca, Tulane University) (pdf)
Deadly Communicable Disease Kills 15 Children in U.S.—More than Ebola (by Noel Brinkerhoff and Steve Straehley, AllGov)