Federal Judge Gives Go-Ahead to Class Action Lawsuit against Pepsi for Exceeding California Carcinogenic Substance Limit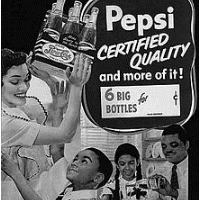 Pepsi is headed to court in California, where a federal judge has ruled (pdf) it must confront allegations that its popular soft drinks contain unhealthy levels of a carcinogen.
The civil case, representing nine class action lawsuits combined together, claims Pepsi, Diet Pepsi and Pepsi One have levels of the carcinogenic 4-methylimidazole (4-MeI) that exceed what's allowed under California Proposition 65. That law established a maximum allowable limit of 4-MeI at 29 micrograms a day. Drinks containing the chemical at higher levels have been proven to produce a significant risk of cancer.
The plaintiffs, however, say that Pepsi's products contain 4-MeI at levels above this safety threshold. They cite a 2014 Consumer Reports study (pdf) that showed the levels of 4-MeI in Pepsi beverages were higher than in other soft drinks tested and, in fact, exceeded more than 29 mcg per can or bottle.
Lead plaintiff Mary Hall claims that, according to Pepsi's annual reports, the company has known that their drinks breached the safety level. When Proposition 65 was passed in California, Pepsi gave the public the impression it had complied with the new chemical requirement when, in fact, it had not, states the complaint. The soft drink maker intentionally misled the public, said Hall.
Additionally, the lawsuit argues that many consumers drink more than one 12-ounce serving of Pepsi a day, putting them at an even greater risk from unhealthy exposure to the chemical.
Chemical 4-MeI is produced as a byproduct in the sodas as a result of the caramel coloring that gives them their distinct look. The chemical has been shown to cause lung tumors in laboratory animals.
-Noel Brinkerhoff, Danny Biederman
To Learn More:
Pepsi Must Defend Against Carcinogen Claims (by Elizabeth Warmerdam, Courthouse News Service)
Stacey Sciortino v. PepsiCo. (U.S. District Court, Northern California) (pdf)
Caramel Color: The Health Risk That May Be In Your Soda (Consumer Reports)
Pepsi and Coke Remove Harmful Substance from Sports Drinks after Teenager's Online Campaign (by Noel Brinkerhoff, AllGov)