Senate Bill would Add Political Groups to Do-Not-Call Lists
Sunday, December 07, 2014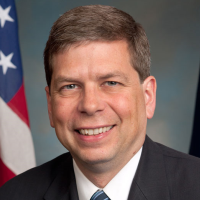 Sen. Mark Begich
Senator Mark Begich (D-Alaska) is trying to give a goodbye gift to the American people.
The senator, who was voted out of office in November, has introduced a bill that would direct the Federal Trade Commission (FTC) to add calls from Super PACs and other dark money groups to the list of those to whom the "Do-Not-Call Registry" would apply. Also subject to Begich's ban would be robocalls and push-polls, which instead of measuring public sentiment are actually attempts to influence voters.
The Sunlight Foundation found that the money spent on such calls paled in comparison to that spent on television advertising, but it was still significant. About $8 million was spent by dark money groups on calls and about $1 million was paid out for robocalls in the last cycle.
It might be that the bill is a way for Begich to atone for his own actions during the just-completed campaign. There was $240,630 spent on his behalf on such phone calls by outside groups as he fought a losing battle to keep his seat in a state in which only 285,449 people voted. Iowa and Massachusetts saw the most money spent on such calls in their senate races.
It's hard to see how the push-polling provision would stand up, since one person's push-poll is another's attempt to test public opinion about a candidate. And the Do-Not-Call list has become something of a joke in the past months anyway; companies routinely ignore the restrictions, knowing that the FTC spends little time tracking down offenders.
Nonetheless, such a law would be popular with voters. FTC spokesman Mitchell Katz told the Sunlight Foundation the calls irk many. "We get a lot of complaints every other year when it's October," he said. Perhaps if Begich had championed such a law before now, he might still be in office.
-Steve Straehley
To Learn More:
A Voter's Dream? Adding Political Groups To The 'Do Not Call' Registry (by Kathy Kiely, Sunlight Foundation)
S.2957 - Do Not Disturb Act of 2014 (Open Congress)