Restaurant Official Accused of Ordering Manager not to Hire Hispanics…at Taco Bell
Saturday, August 02, 2014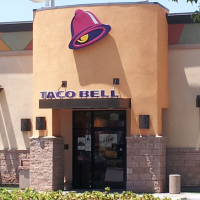 (photo: Steve Straehley, AllGov)
The nation's best-known provider of Mexican-style fast food is being sued for discriminating against the hiring of Hispanics.
Juanita O'Connell, a Mexican-American, worked at Taco Bell for 27 years, most recently as a general manager in Indianapolis, Indiana. But she was terminated after a senior official encountered a Latino employee at one of the franchises, she claims.
According to O'Connell, her supervisor, Mark Lewis, told her in 2013 not to hire Latino employees. He later came to O'Connell's store and saw a Hispanic employee, Feliciano Romero. "Didn't I tell you not to hire Hispanics?" Lewis allegedly said to O'Connell, who is suing Taco Bell.
Her attorney, Joel Paul of the Ramey & Hailey law firm, told Think Progress that his client "does have a witness who was present when he [Lewis] made that statement."
About two weeks after the incident, O'Connell says, a supervisor came to her store and asked her "misleading questions about her operation," according to her complaint. Shortly thereafter, she was dismissed, with the company citing violation of the managers' code and an immigration violation.
O'Connell, 60, had worked at Taco Bell since 1987. Her complaint says the company violated Title VII, which outlaws employment discrimination based on race, sex, and other characteristics. She is seeking lost wages and benefits, plus attorneys' fees and litigation costs.
-Noel Brinkerhoff
To Learn More:
Irony, Thy Name is Taco Bell (Courthouse News Service)
Taco Bell Manager: I Was Fired For Hiring Hispanics (by Bryce Covert, Think Progress)