Planned Parenthood more Popular than All Presidential Candidates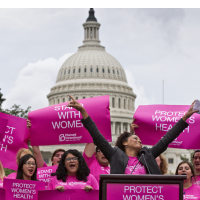 (AP photo)
Planned Parenthood, under fire from conservatives trying to pull the organization's federal funding over abortion, is still a pretty popular institution with the public.
In fact, Planned Parenthood is more popular than all of the politicians running for president, both Democratic and Republican.
A new NBC News/Wall Street Journal poll showed Planned Parenthood with a 45% positive rating among Americans. Thirty percent viewed the organization negatively.
None of the presidential contenders came close to 45%. Hillary Clinton managed a 37% positive rating. But that was outdone by her 48% negative rating.
On the Republican side, Jeb Bush and Donald Trump got a 26% positive score. But their negatives, too, were much higher (40% and 56%, respectively).
Only three candidates managed higher positive than negative ratings: Bernie Sanders (24% v. 19%), John Kasich (14% v. 9%) and Marco Rubio (24% v. 23%).
-Noel Brinkerhoff
To Learn More:
How the Public Views Planned Parenthood and the NRA (by Carrie Dann, NBC News)
Senate Blocks GOP Bill To Halt Planned Parenthood Fed Funds (by Alan Fram, Associated Press)
Mitch McConnell Had Voted to Legalize Fetal Tissue Donations before Leading Charge to Defund Planned Parenthood (by Noel Brinkerhoff and Steve Straehley, AllGov)
Bush Administration Spied on Planned Parenthood (by Noel Brinkerhoff, AllGov)