Pennsylvania Government Shuts Down Seed Library as Potential Source of Terrorism
Thursday, August 07, 2014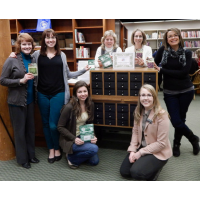 Curators of the dangerous Cumberland County seed library (photo: Carlisle Sentinel)
Local officials in Cumberland County, Pennsylvania, thought it would be a good idea to create a public seed library so residents could share in the growing of heirloom vegetables and other plants. But state agricultural officials saw the initiative as a possible threat to food safety, with shades of terrorism, and demanded it be shut down.
The strange controversy took place at Mechanicsburg's Joseph T. Simpson Public Library, where the Cumberland County Commission for Women worked with the local Penn State Ag Extension office to establish the seed library. In a seed library, seeds are taken as desired by patrons and are supposed to be replenished with seeds from the plants grown by the "borrowers." Such libraries have been established around the country.
But then the Pennsylvania Department of Agriculture informed Jonelle Darr, the library's executive director, that the project violated the state Seed Act of 2004, which deals with the selling of seeds.
This was news to Darr, who told The Carlisle Sentinel that the library had informed the county's agricultural extension office about the seed library. "We were never apprised of the Seed Act," she said.
First, an official letter arrived from the agriculture department and then department officials and lawyers arrived in Cumberland to shutter the pilot project.
Some county commissioners disapproved of the decision to kill the seed library. But the chair of the Cumberland County Board of Commissioners, Barbara Cross, said the move made sense because of the potential threat seed borrowing posed.
"Agri-terrorism is a very, very real scenario," she told the local newspaper. "Protecting and maintaining the food sources of America is an overwhelming challenge... so you've got agri-tourism on one side and agri-terrorism on the other."
The state is allowing the library to host events where private citizens can meet and exchange seeds on their own.
-Noel Brinkerhoff
To Learn More:
Department of Agriculture Cracks Down on Seed Libraries (by Naomi Creason, Carlisle Sentinel)
'Agri-Terrorism'? Town's Seed Library Shut Down (by Andrea Germanos, Common Dreams)
'Seed Libraries' Try to Save the World's Plants (by Kevin Hartnett, Boston Globe)