Obama and Agriculture Dept. Agree that White Potatoes are Nutritious for Poor People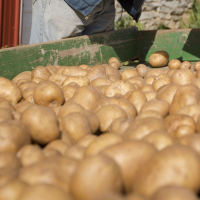 (AP Photo)
The Special Supplemental Nutrition Program for Women, Infants, and Children (WIC) is meant to provide nutritious foods for low-income pregnant and post-partum women and their children. Since 2009, one item that hasn't been on its list of approved foods is the white potato. That omission has stuck in the craw of the potato lobby, but now the Obama administration may be handing that industry a big gift.
The U.S. Department of Agriculture commissioned a review by the Institute of Medicine (IOM) to reevaluate its 2006 determination that white potatoes should not be included on the list of foods that may be purchased with a WIC voucher.
The outcome of that review is that the IOM has decided to reverse its position of nine years ago; it now recommends that white potatoes be added to the WIC voucher-approved list. However, what stands out in the results of the IOM's new review are the things that were not determined, rather than clear-cut arguments for why white potatoes should be added to the allowable foods list.
The reviewers concluded that there was "insufficient evidence" that adding white potatoes to the approved list would change food purchasing habits of WIC recipients, and that there was "no evidence" purchasing habits had changed since white potatoes were removed from the list in 2009. Furthermore, "The nutrient profile of white potatoes does not support their exclusion from the CVV [cash value voucher program] because their nutrient content is similar to that of other starchy vegetables included in the CVV," according to the review. In other words, since recipients are already getting other less-nutritious foods, it probably won't hurt to add one more.
The one positive reason that was cited for adding white potatoes to the list was that it could increase potassium intake for recipients. However, that nutrient is already available from dark leafy greens, beans, squash and other items already approved.
-Steve Straehley
To Learn More:
Review of WIC Food Packages—Key Findings (Institute of Medicine) (pdf)
The Federal Nutrition Program for Pregnant Women Is a Bureaucratic Nightmare (by L.V. Anderson, Slate)
Review of WIC Food Packages: An Evaluation of White Potatoes in the Cash Value Voucher: Letter Report (Institute of Medicine)
USDA Adds Fresh Produce, Yogurt and Tofu to Food Voucher for Poor Program in First Change in 34 Years (by Steve Straehley, AllGov)