Now Some Same-Sex Couples are Told They Have to Marry … to Keep Their Job Benefits
Thursday, January 22, 2015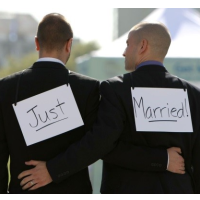 (photo: Getty Images)
Same-sex marriage has gone from being a hard-won right to a requirement for many gay couples.
With many states now authorizing (or at least not banning) gay marriage, some employers are phasing out domestic partnerships and telling couples they have to get married in order to keep their benefits. The way companies see it, there's no point in keeping domestic partnership rules if marriage is legal.
However, phasing out domestic partnerships at employers could also have implications for heterosexual couples who use the legal arrangements for sharing health insurance or other benefits. This could become a widespread problem, depending on how many businesses and organizations change their policies since 35 states and the District of Columbia now allow gay marriage.
"The biggest question is: Will companies get rid of benefit programs for unmarried partners?" Todd Solomon, a partner at McDermott Will & Emery in Chicago, told Kaiser Health News.
Gay rights advocates aren't happy with the move by employers to force people into getting married. Jennifer Pizer, senior counsel at Lambda Legal, which supports gay, lesbian, bisexual and transgender rights, said mandating marriage licenses was "a little bossy."
"It's not a voluntary choice at that point," Pizer added
So far, companies have only made the change for employees in jurisdictions where same-sex marriage is legal. In other states, domestic partners at those companies are still qualified for benefits.
-Noel Brinkerhoff
To Learn More:
Once, Same-Sex Couples Couldn't Wed; Now, Some Employers Say They Must (by Julie Appleby, Kaiser Health News)
3 Federal Agencies that Don't Provide Full Benefits for Same-Sex Couples (by Noel Brinkerhoff, AllGov)
6 States Refuse Benefits to Gay National Guard Spouses (by Noel Brinkerhoff, AllGov)