New Mexico Man Given 5-Year Prison Sentence for Illegally Entering a Home…With Only His Fingertips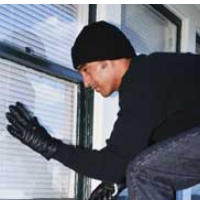 (photo: Jack Star, Photlink/Getty Images)
By Victoria Preiskop, Courthouse News Service.
SANTA FE, N.M. (CN) - The New Mexico Supreme Court ruled that home begins at the window screen - even if only the fingertips have succeeded in breaking and entering.
Anthony Holt was convicted of breaking and entering a home in Las Cruces and was sentenced to five years and five months in prison. The stiff sentence included a four-year habitual offender enhancement.
He appealed, claiming that only his fingertips had entered the home, as the homeowner heard him, and when she caught him in the act, he said, "Oh, I'm sorry," and vamoosed.
After the New Mexico Court of Appeals upheld the conviction in a split decision, the state Supreme Court granted writ of certoriari to determine whether he had entered the home.
After weighing the definitions of "enter" and "entry," and whether the gap between a window and a screen constitutes a void between interior and exterior, the supreme court concluded that people have reasonable expectation that a window screen "provides some protection against unauthorized intrusions."
Justice Judith K. Nakamura wrote for the unanimous five-member panel that Holt had indeed broken and entered Carolyn Stamper's home on Dec. 19, 2010.
"Holt placed his fingers behind Stamper's window screen. The screen marked the outer boundary of Stamper's home. Thus, Holt entered Stamper's residence," Nakamura wrote.
The Feb. 25 ruling, by any measure a closely reasoned decision, adds: "The only element for which Holt contends there was insufficient evidence is the entry instruction. Stamper testified that she was two and a half feet from Holt when she saw him removing the screen from her window. She testified that Holt's fingers were over the screen, i.e., beyond the boundary created by the window screen. Holt concedes that Stamper so testified. Therefore, the evidence was sufficient to support the conviction."
Holt's attorney could not be reached for comment over the weekend.
To Learn More:
Accused Burglar Beats the Wrap with "I Thought I Was in a Space Station" Defense (by Ken Broder, AllGov California)