New Jersey Court Rules that Casino can Fire "Babes" for Gaining Weight
Sunday, September 20, 2015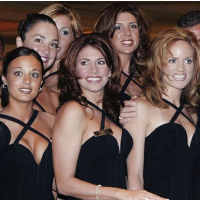 Borgata babes (AP Photo)
An Atlantic City casino is allowed to fire waitresses and waiters who gain weight, according to a ruling by a state appeals court.
The Borgata Hotel Casino & Spa hires "Borgata Babes" to serve cocktails to its casino patrons. The Babes, both men and women (but mostly women), are told upon hiring that they'll be "part fashion model, part beverage server, part charming host and hostess. All impossibly lovely."
To maintain their standard of loveliness, Borgata requires that its Babes gain no more than 7% of their body weight. Twenty-two of the servers sued the casino, claiming it created a culture of humiliation and harassment with its dress code and that female Babes were singled out more than their male counterparts. Workers said they were disciplined for eating a cookie and were asked publicly if they were faking pregnancies.
The court ruled, however, that there was no gender-based discrimination. "We do not deny the PAS (personal appearance standard) costume and physical fitness standards imposed what many would label an 'archaic stereotype' of male and female employees," Appellate Division Judge Marie Lihotz wrote in her decision, according to ThinkProgress. "However…actionable conduct results when the stereotypes are shown to be accompanied by a burden on one sex and not the other or are otherwise used to interfere with employment opportunities of the discriminated group."
Lihotz's decision affirmed one from a lower-court judge in 2013 who ruled, in part: "Plaintiffs cannot shed the label babe; they embraced it when they went to work for the Borgata."
The court did allow suits on behalf of 11 servers who claim that they were sexually harassed because of weight gain to go forward.
This isn't the first time the Borgata has been sued over its weight policy. A 2006 case brought by two servers for $70 million was confidentially settled two years later, according to Jennifer Bogdan of The Press of Atlantic City.
In August 2015, as part of a lawsuit pitting Borgata versus professional poker player Phil Ivey, Ivey accused the casino of sending flirtatious Borgata Babes to distract him. During a deposition, he testified, "they have the pretty cocktail waitresses and they're all very flirty. They're talking to you…I got quite a few [phone] numbers."
-Steve Straehley
To Learn More:
'Borgata Babes' Lose Suit Over Weight Bias (by Jennifer Bogdan, Press of Atlantic City)
Court Allows Casino To Punish Employees For Gaining Weight (by Bryce Covert, ThinkProgress)
Phil Ivey Claims Borgata Used Booze and Girls to Gain Edge (by Steve Hughes, Press of Atlantic City)