New Congress Gains Minorities…but is Still Overwhelmingly White
Wednesday, November 16, 2016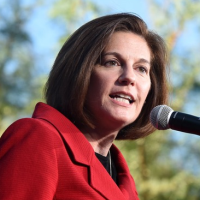 Cortez Masto, first Latina elected to U.S. Senate (photo: Ethan Miller, Getty Images)
By Matthew Daly, Associated Press
WASHINGTON (AP) — Just like college freshmen, newly elected members of the House descended on Washington Monday for a week of orientation, a class photo and a lottery to determine their offices for the next two years.
The new Congress includes the first Latina senator, three House members moving across the Capitol to the Senate and a few former lawmakers who seized their old jobs back.
While the 115th Congress will include a record number of minority women, Congress will remain overwhelmingly white, male and middle-aged.
At the first day of orientation, Republicans expressed excitement about winning the White House while Democrats struck a conciliatory tone.
Vicente Gonzalez, a Democrat who will represent a South Texas district, said freshmen members of his party will start the new session in January "having a clear view of the reality we're dealing with and trying to reach across the aisle and finding common ground."
A look at the new Congress:
MINORITY WOMEN
In the Senate, Democrats Catherine Cortez Masto of Nevada, Kamala Harris of California and Tammy Duckworth of Illinois are among a record 21 women, up from 20 out of 100 senators.
Cortez Masto will be the first Latina senator, while Harris and Duckworth will join Hawaii Democratic Sen. Mazie Hirono to form the Senate's largest ever Asian-American contingent.
Harris, the daughter of immigrants from India and Jamaica, is just the second black woman elected to the Senate and the first with South Asian roots.
The House will welcome its first Vietnamese-American and Indian-American women: Democrats Stephanie Murphy of Florida and Pramila Jayapal of Washington state.
Overall, the number of minority women in Congress will increase to 33 in the House from 27 and stand at four in the Senate.
___
NEW SENATORS
Six new senators join the ranks — a seventh will be chosen next month in Louisiana's runoff. Orientation for new senators starts Tuesday.
Harris, 52, a former prosecutor, currently serves as California's attorney general.
Duckworth, a two-term House member, is a veteran of the Iraq War, where as an Army pilot, she lost both legs when her helicopter was hit by a grenade. Duckworth, 48, was born in Thailand, to an American father and Thai-Chinese mother.
A former two-term Nevada attorney general, Cortez Masto, 52, also has worked as a prosecutor and chief of staff to former Nevada Gov. Bob Miller. Her father is of Mexican descent and her mother is of Italian descent.
Republican Rep. Todd Young of Indiana is a three-term congressman and former Capitol Hill aide. Democratic Rep. Chris Van Hollen of Maryland will replace Barbara Mikulski, who is retiring after 30 years in the Senate. A key lieutenant to House Democratic Leader Nancy Pelosi, Van Hollen, 57, has focused on budget issues and foreign policy.
New Hampshire's Maggie Hassan, a two-term governor, defeated freshman Republican Sen. Kelly Ayotte in the nation's closest Senate race.
___
WOMEN ASCEND IN SENATE, DECLINE IN HOUSE
A total of 104 women will serve in the next Congress, the same as in the current Congress and 19.4 percent of the total number of lawmakers. Twenty-one women will serve in the Senate while 83 women will serve in the House, a drop of one from the current 84.
In addition to Hillary Clinton's defeat in the presidential race, women saw setbacks in Congress. Maryland's 10-member congressional delegation reverted to all-male, while Pennsylvania voters rejected Democrat Katie McGinty's bid to become the first woman in the state elected to the Senate.
Democrat Lisa Blunt Rochester will be Delaware's first woman and first African-American in Congress. Only Mississippi and Vermont have never sent a woman to either chamber of Congress.
___
AFRICAN-AMERICANS GAIN
A record 48 African-Americans will serve in Congress, including 46 in the House, an overall increase of two. Eighteen black women serve in Congress, including Republican Rep. Mia Love of Utah. Love is one of three black Republicans, along with South Carolina Sen. Tim Scott and Texas Rep. Will Hurd.
___
HISPANICS, ASIAN AMERICANS GAIN
A record 39 Hispanics will serve in Congress, including 35 in the House. Seven Hispanic freshmen were elected to the House, all Democrats. Ruben Kihuen will be the first Latino to represent Nevada in the House, while New York's Adriano Espaillat will be the first Dominican-American.
Fifteen Asian Americans will serve in Congress, including 12 in the House. That's up from 10 in the current Congress.
__
WELCOME BACK
Three former House Democrats won their old seats back: Colleen Hanabusa of Hawaii, Brad Schneider of Illinois and Carol Shea-Porter of New Hampshire.
Attending her first day of orientation Monday, Hanabusa said her experience will help her as Democrats try to wield influence in the minority.
"Like everything else, it's whether we're going to be able to maintain relationships more than anything," she said.
To Learn More:
100 Women in Congress: A Milestone Tempered by Snail's Pace of Progress (by Noel Brinkerhoff, AllGov)
More Than Half of U.S. States Have Never Elected an African-American to Congress (by Noel Brinkerhoff, AllGov)