NBA Team Smartphone App Secretly Records Private Phone Conversations, Claims Lawsuit
Thursday, September 01, 2016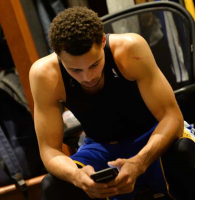 Golden State Warriors' Stephen Curry on his smartphone (photo: Noah Graham, NBAE via Getty Images)
By Nicholas Iovino, Courthouse News Service
SAN FRANCISCO (CN) — A class action claims that a smartphone fan app for the Golden State Warriors secretly records users' private conversations without their consent.
Lead plaintiff LaTisha Satchell sued the Golden State Warriors and two app makers — Sonic Notify dba Signal360 and Yinzcam — in San Francisco Federal Court on Monday.
The Golden State Warriors app provides interactive updates on game scores and stats and lets users upload photos and videos to be shared on social media.
Satchell says whenever the app is open, even running in the background, it turns on microphones in fans' smartphones and records them while scanning for audio signals to pinpoint their location for marketing purposes.
The Warriors partnered with Signal360 in 2014 to integrate the company's beacon technology into its fan app, according to the lawsuit.
"At no time do defendants disclose to consumers that the app uses beacon technology," Satchell says in her 15-page complaint. "And, defendants have not disclosed that the Warriors app uses audio beacon technology that surreptitiously turns on consumers' smartphone microphones and listens in."
Signal360's chief operating officer, Lauren Cooley, said the lawsuit appears to be based on a "misunderstanding" of how the company's technology works.
"Our technology does not intercept, store, transmit, or otherwise use any oral content for marketing purposes or for any other purpose," Cooley said.
Several apps have used Bluetooth technology in smartphones to scan for radio signals, determine users' locations and track their movements for marketing purposes, according to the complaint.
But the newer beacon technology, developed by Signal360, is said to use smartphone microphones to scan for beacons that send out unique audio signals.
This method would allow retailers, for instance, to track a user's movements through a store as one passes through the shoe department or kids department. The retailer could then make a text ad pop up on a user's smartphone offering a discount or deal for shoes or children's apparel, according to the lawsuit.
Though the app asks for users' permission to use their cameras and microphones, it does not disclose that it turns on the microphone whenever the app is open and records everything around it, Satchell says.
The Golden State Warriors app has been downloaded from the Google Play store between 100,000 and 500,000 times, according to the complaint.
Satchell says she downloaded the app in April 2016 to stay updated on game scores and other Golden State Warriors news.
"Her phone was present in locations and personal and private situations not generally accessible to the public where the expectation was that her conversations were to remain private," the complaint states.
The class-action lawsuit accuses the Golden State Warriors and app makers of violating the Electronic Communications Privacy Act.
Satchell seeks to certify two nationwide classes — one for all those who downloaded and opened the Golden State Warriors app, and a second class for all who downloaded and opened mobile apps from the Google Play store that included but failed to disclose the presence of Signal360 audio beacon code.
The plaintiffs seek statutory damages of $100 per class member per day, or $10,000 per class member, whichever is greater, plus profits earned through the "unlawful conduct."
The proposed classes also seek punitive damages and an injunction to stop the apps from turning on their microphones and recording them without consent.
Satchell is represented by Stewart Pollock of Edelson PC in San Francisco.
The Golden State Warriors and Yinzcam did not immediately respond to emailed requests for comment Wednesday morning.
Signal360's website says that it also has an app for the University of Michigan football stadium.