National Transportation Safety Board Considers Reopening Investigation of 1959 Plane Crash that Killed Buddy Holly…But Don't Count on it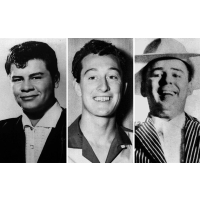 Richie Valens, Buddy Holly and J.P. "Big Bopper" Richardson (AP photos)
The National Transportation Safety Board (NTSB) is considering the possibility of reopening the investigation into the plane crash that killed Buddy Holly, Ritchie Valens and J.P. "The Big Bopper" Richardson 56 years ago.
The predecessor to the NTSB, the Civil Aeronautics Board, ruled following the February 3, 1959, crash outside of Mason City, Iowa, that pilot Roger Peterson was responsible. It was determined he lost control of the plane due, in part, to spatial disorientation caused by poor weather conditions and his lack of experience with the aircraft's flight instruments.
But a retired New England pilot, L.J. Coon, believes other issues may have played a role.
Coon has asked the NTSB to review his assertions, which include consideration of the weight and balance of the Beech Bonanza aircraft, its rate of climb and descent, fuel gauge readings and the possible absence of a passenger-side rudder pedal.
The NTSB responded to Coon's request last month, saying they will spend the next two months considering his theories. "You have gotten our attention. Let us do our due diligence in order to give you a proper answer," stated the letter sent to Coon from the agency's Office of the Managing Director.
Following those two months of consideration, it can take another six months to a year for the NTSB to decide whether or not to grant the petition for reopening the investigation, according to Peggy Senzarino at the Mason City Globe Gazette.
But Bob Collins of Minnesota Public Radio reported that the "NTSB is nowhere near ready to reopen the investigation" and that the agency would only do so if Coon's proposal contains new information not previously considered. "Little of Coon's theory…is new," he said.
The night before the crash, Holly, Valens and Richardson had performed at the Surf Ballroom in Clear Lake, Iowa. The aircraft had been in flight for only four minutes when it crashed into a farm field five miles north of the municipal airport.
-Noel Brinkerhoff, Danny Biederman
To Learn More:
Federal Traffic Safety Board Considering Fresh Look At Buddy Holly Crash (by Peggy Senzarino, Mason City Globe Gazette)
NTSB Considers Reopening Buddy Holly Crash Case (by Mike Kilen, Des Moines Register)
Reopening the Buddy Holly Plane Crash Cause? Not Likely (by Bob Collins, Minnesota Public Radio)
Could New Investigation Clear Buddy Holly Pilot? (by Dana Larsen, Pilot-Tribune)
Full text of the Civil Aeronautics Board Aircraft Accident Report on the plane crash that killed Buddy Holly, Ritchie Valens and the Big Bopper (Fifties Web)