NASA's Trip to Pluto Cost less than each of 5 NFL Stadiums and 2 MLB Stadiums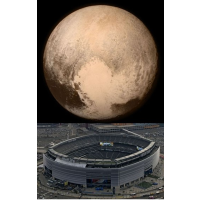 Pluto; MetLife Stadium (photos: NASA; AP)
The excitement generated by the National Aeronautics and Space Administration (NASA) New Horizons to Pluto mission may not be in the same ballpark as Tony Romo throwing a touchdown pass in Cowboys Stadium (now AT&T Stadium) or Alex Rodriguez belting a home run in Yankee Stadium. But the trip to the outer reaches of the solar system cost less than it did to build many baseball and football stadiums.
NASA spent $723 million on the nine-year, 3 billion-mile voyage to Pluto, according to The Week. This was less than what it took to build five NFL stadiums and two Major League Baseball parks.
The Cowboys play in a football cathedral that cost $1.33 billion. But that's not the most expensive NFL stadium. That distinction belongs to MetLife Stadium, home to the New York Jets and New York Giants, which cost $1.6 billion to construct. Another billion-dollar NFL venue is on the way in Minnesota: U.S. Bank Stadium, where the Minnesota Vikings will play.
Two other NFL stadiums also cost more than New Horizons: Soldier Field in Chicago ($755 million) and Lucas Oil Stadium in Indianapolis ($735 million).
The new Yankee Stadium cost $1.5 billion, joined by another nearly billion-dollar park that cost more than the Pluto mission: Citi Field ($922 million), where the New York Mets play.
-Noel Brinkerhoff
To Learn More:
The Whole Trip To Pluto Cost Less Than 1 NFL Stadium (The Week)
11 Most Expensive Stadiums In The World (TotalProSports.com)
NASA Unveiling New Pluto Flyby Photos Today: How to Watch Live (by Mike Wall, Space.com)