"Miss Demeanor" Sues to Stop Commercial Use of her Mugshot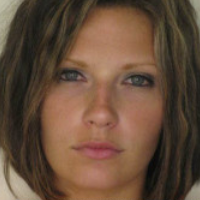 Meagan Simmons' mugshot (photo: Hillsborough County Sheriff's Department)
A Florida woman whose mugshot became a meme sensation on the Internet is now suing for illegal use of her image.
Meagan Simmons' story began on July 25, 2010, when she was arrested for drunk driving. The 28-year-old mother of four took a rather attractive mugshot at the local jail that someone posted online.
Before long others discovered the photo and started having fun with it, creating memes that read:
"Guilty of taking my breath away."
"This is what a model inmate looks like."
"Arrested for breaking and entering your heart."
Simmons went along with the unexpected publicity, giving media interviews and personally tweeting about her image making the cut for Inside Edition's segment on hot mugshots. She gained several thousand Twitter and Instagram followers and hinted that she might be game to do a Playboy layout.
But the "attractive convict" finally decided enough was enough when Instant.Checkmate.com, which conducts background checks, started using her mugshots for its online advertising along with the tagline: "Sometimes the cute ones aren't that innocent."
Since the website is using her photo for financial gain, she's now suing the company for damages and to get it to cease using her picture.
"At the end of the day, this is actually about intellectual property," Matthew Crist, the attorney representing Simmons, told the Tampa Bay Times. "If someone is going to use your image they need to pay you for it."
In her lawsuit, Simmons alleges that InstantCheckmate's use of the photo has invaded her privacy, upset her peace of mine, and resulted in her suffering mental anguish. She is seeking monetary damages and an injunction to prevent the company from using her photo.
As far as her image being displayed elsewhere, she wishes that it wasn't the shot taken at police headquarters that was getting all the attention. "I don't think it's that good a picture," she told the Daily Mail. "There are other ones I would prefer."
-Noel Brinkerhoff, Danny Biederman
To Learn More:
Tired of the Mugging (Tampa Bay Times)
Mugshot Meme Mother-of-Four Sues Over Incessant Use of Her Attractive Booking Photo Across the Internet (by Ben Endley, Daily Mail)
Websites Charge $400 to Remove Mugshots of Innocent People from Internet (by Matt Bewig, AllGov)