Medical Marijuana May Go Kosher
Friday, February 27, 2015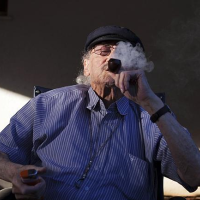 Medical marijuana smoked on an old-age kibbutz in Israel (photo: Dan Balilty, AP)
Orthodox Jews in New York State may soon have access to kosher medical marijuana.
Chief operating officer of the Orthodox Union's kosher certification agency, Rabbi Moshe Elefant, has reportedly talked to several companies seeking a kosher seal of approval for medical marijuana.
Medicinal marijuana is currently legal in about half of the states. Recreational marijuana is legal in a handful of states as well.
The Union is considering certification of medical marijuana because of its medical benefits.
"Just as the OU gives out kosher certificates for vitamins or for any other medical product, after an examination of the ingredients, it is possible in principle to issue kosher certificates for cannabis, as long it is solely for medical uses and in countries where it is permitted by law," the Union's CEO in Israel told Ynet News.
"In terms of Jewish orthodox law, there should be no problem with authorizing a kosher certificate for marijuana because it is a plant," wrote Ynet's Dr. Ruchama Weiss and Rabbi Levi Brackman, "and just as all plants that grow in the US, Jewish laws regarding Shmita do not apply to them. When cannabis is in its natural form, it is kosher for consuming or smoking."
But for now kosher pot is likely to only be available to individuals with a doctor's prescription, despite the fact that "many of the leading pro-legalization activists, philanthropists and entrepreneurs [are] drawn from the Jewish community," according The Jewish Daily Forward.
Approving kosher marijuana for pleasure isn't going to happen anytime soon because most Orthodox rabbis reject such an idea.
In contrast, "progressive Jews see legalization of marijuana as a social justice issue," Paul Berger wrote at The Jewish Daily Forward. "They argue that U.S. drug policy criminalizes otherwise law-abiding citizens and disproportionately affects black and Latino people, who comprise most marijuana arrests even though white people are just as likely to smoke pot."
Israel's former health minister, Yael German, recently pointed out in a Knesset meeting that Israel's distribution of medical marijuana exceeds that of any European country, according to Jta and Aaron Kalman at The Times of Israel. "Israel distributes nearly 880 pounds of cannabis per month," said German. "The Netherlands in comparison only provides a small portion — 330 pounds — per year."
The Orthodox Union has previously rejected kosher certification requests from the makers of cigarettes and e-cigarettes due to the health dangers of smoking.
- Danny Biederman, Noel Brinkerhoff
To Learn More:
Medical Marijuana May Soon Get Kosher Stamp of Approval (by Paul Berger, Jewish Daily Forward)
Coming Soon: Kosher Cannabis (by Ruchama Weiss and Levi Brackman,Ynetnews.com)
Rabbi: Weed is Kosher If Medicinal (by Aaron Kalman, Times of Israel)