Massachusetts State Police Win Award for most Secretive Government Agency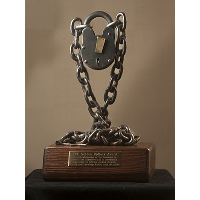 The Golden Padlock Award--Credit: Investigative Reporters and Editors
And the winner of the award for being the most secretive government agency in the United States is … Massachusetts' state police!
This dishonor, known as the Golden Padlock Award, is presented by Investigative Reporters and Editors. This is the third year IRE has scoured the nation for government operations that do the worst job of fulfilling open records requests from the media.
The Massachusetts State Police won because they "habitually go to extraordinary lengths to thwart public records requests, protect law enforcement officers and public officials who violate the law and block efforts to scrutinize how the department performs its duties," according to IRE.
The investigative news organization says it usually takes months or longer for the agency to respond to freedom of information requests and demand huge fees, one as high as $62,220, for fulfilling them. They even tried to impose a $710.50 fee on the Bay State Examiner for figuring out what the fee would be for the records the Examiner requested.
"True commitment, no matter how offensive to the public interest, must be begrudgingly recognized," said Robert Cribb, chair of IRE's Golden Padlock committee. "The Massachusetts State Police has distinguished itself as an agency unwavering in its willingness to ensure citizens are protected from the truth." IRE said there had been no response from the department on the group's invitation to the awards ceremony.
The law enforcement agency beat out three other finalists for the award: the Colorado Judicial Branch, the Texas Department of Public Safety, and the Department of Defense.
Of the Colorado Judicial Branch, IRE said it "has been exempt from the state's open records laws" since 2012, which "has given court administrators authority to decide what records—from budgets to internal memos—the half-billion-dollar-a-year agency will and won't release."
The Texas Department of Public Safety was nominated "for attacking the media rather than releasing information on the costs and effects of border security," while the Pentagon became a finalist "for withholding information about the massacre of 16 civilians in 2012 by U.S. Army Staff Sergeant Robert Bales—one of the worst atrocities of the war in Afghanistan."
-Noel Brinkerhoff
To Learn More:
Finalists Announced for 2015 Golden Padlock Award (Investigative Reporters & Editors)
Massachusetts State Police win Golden Padlock Award (Investigative Reporters & Editors)
Massachusetts State Police Impose Fee to Determine Fee (Bay State Examiner)
Obama Administration Sets Record for Denying Freedom of Information Requests (by Danny Biederman and Noel Brinkerhoff, AllGov)