Majority of New Driver's Licenses Issued in California This Year are to Undocumented Immigrants
Wednesday, August 12, 2015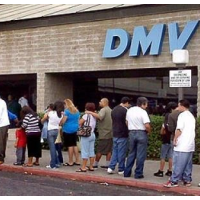 (AP photo)
Undocumented immigrants have not hesitated to take advantage of a new law in California that allows them to get drivers licenses despite their legal status.
Undocumented immigrants have received the majority of new drivers licenses issued in the state in 2015, thanks to AB 60, which went into effect this year. That law allows anyone with proof of residency and passing grades on driving and written tests to obtain a license, regardless of their immigration status.
"We're really just going to some level of common sense," Angelica Salas, the executive director of the Coalition for Humane Immigrant Rights of Los Angeles, told The New York Times. "We've done in-state tuition and professional licenses for more than a million people. Lives have changed significantly, and the sky has not fallen."
The California Department of Motor Vehicles reported that as of June 30, the agency had issued 397,000 licenses to undocumented applicants out of a total of 759,000 people this year. By the end of July, the numbers were 443,000 licenses to undocumented immigrants out of a total of 883,000 licenses issued in 2015.
The DMV expects to issue 1.5 million licenses to undocumented immigrants within three years.
California is home to more undocumented immigrants than any other state, with approximately 3 million of them. But it is not the only state to approve a law allowing these immigrants to get drivers licenses. A dozen others, including Connecticut, Maryland and Colorado, have done so as well.
-Noel Brinkerhoff, Steve Straehley
To Learn More:
California Effort to Issue Driver's Licenses to Immigrants Receives Surge of Applicants (by Jennifer Medina, New York Times)
DMV Issues Nearly 400-Thousand Driver Licenses under AB 60 (California Department of Motor Vehicles)
More than Half of California Drivers' Licenses Went To Undocumented Immigrants, NumbersUSA Says (PunditFact)
California Welcomes 200,000 New Immigrant Drivers into System that Annually Suspends Half a Million Licenses (by Ken Broder, AllGov California)