Maine Town Considers Renaming Katie Crotch Road after Repeated Thefts of Street Signs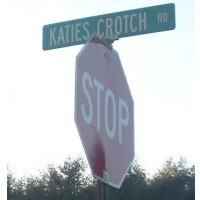 A slightly altered, copycat version of the popular street sign posted by a Katie Crotch fan
EMBDEN, Maine (AP) — A Maine town that spends hundreds of dollars annually to replace stolen street signs is again asking residents to consider renaming one of the frequent targets: Katie Crotch Road.
The Morning Sentinel reports a referendum to rename Katie Crotch Road to Cadie Road is being considered in Embden in Somerset County. Residents are sorting out the matter with a vote Friday and a town meeting Saturday.
Board of Selectman Chairman Charles Taylor says the thefts occur so frequently that "you would think every dorm room in the state of Maine should have one by now."
Katie Crotch Road sits off Route 16 connecting Embden and New Portland. It's not clear how it got its name.
A previous motion to rename the street failed in 2012.
To Learn More:
Bangladeshi-Americans Fight Street Sign that Honors Dictator (by Noel Brinkerhoff, AllGov)