Louisiana Judges Hand Out Longer Sentences when Local Football Team Loses in an Upset
Thursday, September 08, 2016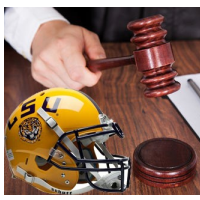 (photo: Getty Images; photo illustration: Steve Straehley, AllGov)
Louisiana State University's football team may soon see an even more rabid addition to its already enthusiastic fan base—youths awaiting trial for juvenile offenses in the state.
A study (pdf) for the National Bureau of Economic Research conducted by two LSU faculty members has found that Louisiana's juvenile court judges hand down harsher sentences in the week after LSU suffers an upset loss on the football field.
Researchers Ozkan Eren and Naci Mocan looked at the Las Vegas point spreads on the Tigers' football games. When LSU lost after the oddsmakers favored the team to win, Eren and Mocan examined sentences doled out to juvenile offenders the following week. The length of the sentences increased by an average of 35 days, or about 7%. Most of the increased sentences came from judges who attended Louisiana State as undergraduates; the average increase handed down in their courts was 74 days. The difference was even greater, 86 days, if LSU was ranked in the top 10 at the time of its loss.
"We calculate that each upset loss of the LSU football team generates excess punishments of juvenile defenders in Louisiana by a total of more than 1,332 days, including time in custody and probation," Eren and Mocan wrote. "Importantly, 159 extra days of jail time has been assigned to juveniles convicted of a felony due to an upset loss in a football game."
Not surprisingly, African-American defendants bear the brunt of the judges' unhappiness about the Tigers' fortunes. "It appears that an upset LSU football game loss increases the disposition length (sentence severity) of black defendants more severely in comparison to white defendants. Thus, the burden of the emotional trauma generated by the upset loss seems to fall on black defendants," the study concluded. African-American defendants' sentences after an upset were 46 days longer on average, while the increase among white defendants was eight days. The researchers found no differences in average sentence length between black and white defendants when LSU hadn't suffered an upset.
-Steve Straehley
To Learn More:
Emotional Judges and Unlucky Juveniles (by Ozkan Eren and Naci Mocan, National Bureau of Economic Research) (pdf)
Florida State Football: 10-2; Florida State Rape Reporting: 14-99 (by Noel Brinkerhoff, AllGov)