Florida State Football: 10-2; Florida State Rape Reporting: 14-99
Friday, December 04, 2015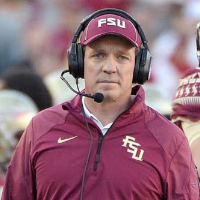 FSU Football Coach Jimbo Fisher (photo: Phelan M. Ebenhack, AP)
Florida State University has a winning record on the football field, but a lousy one when it comes to reporting rapes.
Court documents from an ongoing lawsuit against FSU revealed 113 students reported being raped last year, but the school officially reported only 14 such cases.
The higher rape totals contained in the court papers, which FSU "fought to keep confidential," according to The New York Times, were provided by Melissa Ashton, the former director of the school's Victim Advocate Office. Ashton testified that in the nine years she worked in that office, 40 football players were accused of either sexual assault or "intimate partner" violence, but to her knowledge, only one person had been held responsible. The FSU football team is 10-2 so far this season.
"She said most of the women chose not to pursue the cases 'based on fear,'" the Times' Walt Bogdanich wrote.
Ashton's testimony came in connection with a federal lawsuit filed by Erica Kinsman, a former FSU student who accused the school's former star quarterback, Jameis Winston, of raping her in 2013. Her lawsuit says FSU failed to properly investigate her allegation, allowing Winston to avoid being charged. Winston is now starting quarterback for the NFL's Tampa Bay Buccaneers.
-Noel Brinkerhoff
To Learn More:
FSU Reported Few Rape Cases to the U.S. (by Walt Bogdanich, New York Times)
FSU Official Says Football Players Get Special Treatment in Sexual Assault Cases (by Gary Fineout, Associated Press)
Ohio Rapist Released after 10 Months in Prison; Activist who Exposed Him Faces 10 Years (by Matt Bewig, AllGov)