Lawsuit Accuses Conan O'Brien of Stealing 4 Mediocre Jokes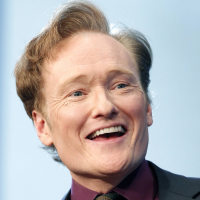 Conan O'Brien (photo: Michael Dwyer, AP)
Conan O'Brien is being sued for copyright infringement by a San Diego comedy writer who claims the late night host used four of his jokes without permission.
Robert Alexander Kaseberg filed his lawsuit with the U.S. District Court in Southern California, and named O'Brien as well as two others as defendants: "Conan" Executive producer Jeff Ross and head writer Mike Sweeney.
Kaseberg says in his complaint that Conan incorporated four of his jokes, which he had posted on his blog, in his monologues this year.
On January 14, Conan read this joke that Kaseberg claims he had posted earlier that day: "A Delta flight this week took off from Cleveland to New York with just two passengers. And they fought over control of the armrest the entire flight."
Then, on February 4, Conan used this joke, which Kaseberg claims he wrote and posted the day before: "Tom Brady said he wants to give his MVP truck to the man who won the game for the Patriots. So enjoy that truck, Pete Carroll."
Later that month, on February 17, a third joke that Kaseberg claims is his was used on the show: "The Washington Monument is 10 inches shorter than previously thought. You know the winter has been cold when a monument suffers from shrinkage."
The most recent claim, the plaintiff says, happened on June 9, when Conan told his audience: "Three streets named Bruce Jenner might have to change names. And one could go from a Cul-de-Sac to a Cul-de-Sackless."
Kaseberg is seeking an unspecified amount, but claims damages of at least $600,000.
-Noel Brinkerhoff