Judge Rules Person Can Be Considered "Non-Binary," Rather Than Male or Female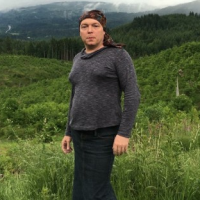 Jamie Shupe
By Nick McCann, Courthouse News Service
PORTLAND, Ore. — In what appears to be the first such ruling ever, an Oregon judge granted a transgender person's petition to be legally considered "non-binary," rather than male or female.
Jamie Shupe of Portland filed a petition for change of sex in April. Shupe, who was born male, used the honorific "Mx" in court filings.
Shupe is an Army veteran who began changing gender in 2013. After first petitioning the Multnomah County Court for a change from male to female, Shupe's attorneys submitted documents to request a change from "female to "non-binary."
Under Oregon law, a judge can grant a petition for change of sex if a person submits proper evidence of hormonal, surgical, or other gender transition treatment.
Multnomah County Judge Amy Holmes Hehn granted judgment on Friday, changing Shupe's gender from female to non-binary.
Advocates for transgender rights praised the ruling (pdf) as the first of its kind.
"It's really exciting for the courts to actually recognize what we know to be true: Gender is a spectrum," Nancy Haque, a director for Basic Rights Oregon told The Oregonian.
Haque called it "a momentous day for genderqueer Oregonians."
Shupe told the Daily Dot that the "first goal is to tackle the Oregon DMV," as the state's identification forms still have only "male" and "female" options.
Shupe was featured in a New York Times project called "Transgender Today," which collected opinion columns from transgender people across the country.
"I have effectively traded my white male privilege to become one of America's most hated minorities," Shupe wrote. "The documents of my distinguished military career no longer reflect my name."
To Learn More:
White House Directive Clarifies Transgender Rights in Schools (by Eric Tucker, Associated Press)
Federal Court Protects Transgender Immigrant from Deportation to Mexico Based on Anti-Torture Rules (by Steve Straehley, AllGov)
8,800 Transgender Americans are on Active Duty in U.S. Military (by Noel Brinkerhoff, AllGov)