Is There a Positive Side to Coal Mining Waste?
Tuesday, January 05, 2016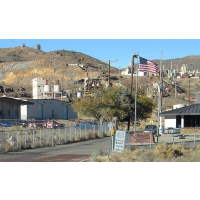 California's Mountain Pass rare earth mine, which closed in 2002 (photo: Wikipedia)
Researchers in West Virginia are looking into whether there is an upside to coal mining waste.
It's been determined that waste streams resulting from the coal mining process contain
rare earth elements (REEs), which are vital to the production of all kinds of important technology. As their name indicates, REEs are rare and costly to mine. The extraction of REEs from these existing streams would fill the demand of U.S. industry without the financial and environmental cost of additional mining.
The U.S. shuttered its only REE mine years ago, forcing it to import them from China.
Conventional REE extraction requires the grinding of huge amounts of hard rock, followed by an acid process to remove the REEs. "The process is energy intensive, disturbs large areas of pristine land, and generates large volumes of toxic tailings," reported Homeland Security News Wire (HSNW).
Now West Virginia University has been given nearly $1 million by the Department of Energy's National Energy Technology Laboratory to see if REEs can be extracted from coal waste. In Pennsylvania and West Virginia alone, it is estimated [coal mining] generates more than 45,000 tons of total REEs per year or about three times the current U.S. demand for total REEs.
"Successful development of this concept will generate an additional revenue stream for the coal industry, create jobs and incentivize acid mining treatment," said Paul Ziemkiewicz, director of the West Virginia Water Research Institute and the project's principal investigator. "At the same time it will reduce U.S. reliance on foreign supplies of rare earth elements."
REEs are used in the manufacture of such technologies as cell phones, medical equipment, DVDs, GPS components, and military weaponry.
-Danny Biederman, Noel Brinkerhoff
To Learn More:
Recovering Rare Earth Elements from Coal Mining Waste (Homeland Security News Wire)
Ziemkiewicz Principal Investigator on WVU Efforts to Recover Rare Earth Elements from Coal Mining Waste (National Research Center for Coal and Energy)
Ocean Floor Muddies China's Grip on Valuable Rare-Earth Minerals (by Noel Brinkerhoff, AllGov)
U.S. Weapons Systems Dependent on Rare Earth Elements from China (by Noel Brinkerhoff and David Wallechinsky, AllGov)