Is the U.S. Military Socialist?
Wednesday, January 06, 2016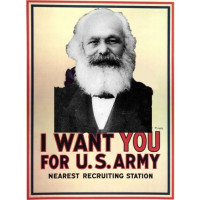 (photo illustration: Steve Straehley, AllGov)
Free housing. Free healthcare. Paid college tuition. Thirty days of vacation each year. It sounds like something out of Bernie Sanders' wildest dreams, doesn't it? Well, all that can be yours—you just have to sign on the bottom line and devote the next four or so years to serving your country in uniform.
The U.S. military might be the closest thing the United States has to a socialist utopia. All basic needs are taken care of. Families with children get more money than singles. Morale-boosting programs such as vacation lodging, golf courses and movie theaters are available at many military installations.
"The military invests time and money in service members while making the maximum effort to keep their morale high," Scott Beauchamp wrote in The Atlantic. "The millions of service members who live on military bases around the world experience a kind of economic and social security that isn't comparable with any other working-class community in America."
It's a stark contrast to the private sector, in which increasing numbers of Americans are forced to work as contractors or in several part-time jobs with few or no benefits to make ends meet. Instead, the military is focused on keeping its soldiers, sailors, airmen and Marines as happy as possible so they can focus on one thing—keeping America safe.
And it's not just material benefits that separate military life from the private sector. The armed services are more meritocratic and provide for a more equal division of resources. Jacob Siegel pointed out in The Daily Beast that the military is one of the few American institutions in which someone can start at the bottom, as a private soldier, and move into the top echelons of command. In addition, the salary differences between the top and bottom of the organization are much smaller than in private industry. The lowest-ranking recruit has a base pay of $1,566.93 a month, while a top general or admiral's base pay can go as high as $20,220.07 a month. That's a multiple of about 13 to 1. In some U.S. corporations, the multiple is more than 1,000 to 1.
-Steve Straehley
To Learn More:
The Military: An Alternative to the Brutalities of the Modern Economy (by Scott Beauchamp, The Atlantic)
The U.S. Military Is a Socialist Paradise (by Jacob Siegel, Daily Beast)
One Place Where Women's Pay Remains Stubbornly Equal to Men's: U.S. Military (by Steve Straehley, AllGov)