Is an Arkansas Republican Responsible for Spread of Ebola and did a Democrat Vote to Give Social Security Benefits to Illegal Immigrants? Of Course not…except in Campaign Ads
Tuesday, September 16, 2014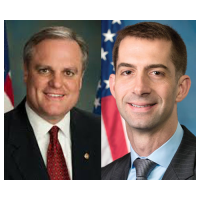 Mark Pryor and Tom Cotton
The U.S. Senate race in Arkansas has become one of the most important among this year's election races, and one of the most muddy as both sides have slung some serious political distortions.
First, it was incumbent Democrat Mark Pryor's turn. His campaign put out an ad that told voters his challenger, Republican Tom Cotton, had helped encourage the spread of the Ebola virus through his legislative actions. This was "mostly false," according to PolitiFact. Cotton did initially vote against the Pandemic and All-Hazards Preparedness Reauthorization Act of 2013, which provided funding to fight pandemics including Ebola. However, he did vote for the version of the bill passed by the Senate and it became law.
Cotton responded with his own misleading commercial that warned that Pryor wanted to give undocumented workers Social Security benefits for their employment while working under "forged identities."
The claim was based on a 2006 vote Pryor cast in the Senate "that has been repeatedly debunked by fact checkers," The Washington Post's Glenn Kessler wrote, noting that FactCheck.org made the lie one of the "Whoppers of 2006."
"Undocumented workers are not eligible for Social Security. Yet with few exceptions, workers in the United States must pay a portion of their earnings to Social Security, which is matched by their employer. Thus workers in the country illegally who have fraudulent or unauthorized Social Security numbers are paying into the system, but do not get any benefits," Kessler wrote.
The truth is that Pryor, along with other Democrats and several Republicans, voted against an amendment dealing with undocumented workers' Social Security benefits that would have sunk a 2006 immigration bill. The amendment was defeated and the bill passed the Senate, but did not become law. A revised version of that amendment, voted for by Pryor and 91 other senators, did become the law of the land the following year.
-Noel Brinkerhoff, Steve Straehley
To Learn More:
Cotton Earns Four Pinocchios for a Claim Discredited Eight Years Ago (by Glenn Kessler, Washington Post)
Did Mark Pryor Vote 'to Give Social Security Benefits to Illegal Immigrants'? (Tampa Bay Times)
Judge: Ohio Won't Bust Lying Politicians (by Chrissie Thompson, Cincinnati Enquirer)
Supreme Court to Decide if Campaign Lies are Protected Free Speech (by Noel Brinkerhoff, AllGov)