Inspired by Chief Justice Roberts, Polygamous Couple Applies for Marriage License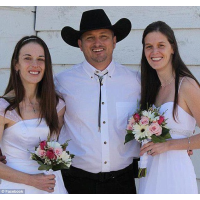 Nathan Collier with wives Victoria and Christine (photo: Facebook)
Although Supreme Court Chief Justice John Roberts opposed the ruling that legalized gay marriage, he wound up inspiring at least one polygamist to seek legitimacy for his multi-marriage lifestyle.
In his dissenting opinion, Roberts wrote that allowing homosexuals to lawfully wed could result in polygamists making the same legal argument to sanction and legalize their definition of marriage as well.
A Montana man, Nathan Collier, has done just that. A former Mormon who was excommunicated for polygamy, Collier married his first wife, Victoria, in 2000. He applied for a second marriage license with the clerk in Billings to marry his second wife, Christine, after hearing what Roberts wrote.
"It's about marriage equality," Collier told the Associated Press (AP). "You can't have this without polygamy."
As with all 50 states, Montana considers polygamy illegal. Not surprisingly, county clerk officials initially denied Collier's application for a second marriage license. However, they are consulting with the county attorney's office before giving Collier their decision.
"He deserves an answer," Yellowstone County chief civil litigator Kevin Gillen, who is reviewing the case, told the AP. "The law simply doesn't provide for that yet."
-Noel Brinkerhoff
To Learn More:
Polygamous Montana Trio Applies for Wedding License (by Matt Volz, Associated Press)
Support for Polygamy Is Rising. But It's Not the New Gay Marriage. (by Hunter Schwarz, Washington Post)