Independents Outnumber Both Democrats and Republicans in 44 of 50 States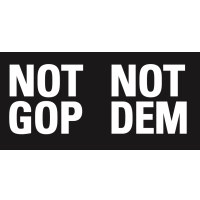 Americans have increasingly shunned both the Republican and Democratic parties in favor of independent status when it comes party identification. This trend has progressed to the point where in 44 of the 50 states, independents are a larger group than either the number of registered Republicans or Democrats.
The American Values Atlas produced by the Public Religion Research Institute reveals only six states where one of the two traditional parties have more self-identifying voters than independents.
In five of those six, it is Democrats that outnumber independents:
Delaware
Democrat 38%
Independent 33%
Republican 22%
Maryland
Democrat 42%
Independent 32%
Republican 20%
Mississippi
Democrat 36%
Independent 31%
Republican 30%
New York
Democrat 40%
Independent 36%
Republican 17%
Pennsylvania
Democrat 35%
Independent 33%
Republican 26%
The sixth state, Wyoming, is the lone example of Republicans outnumbering independents:
Wyoming
Republican 47%
Independent 35%
Democrat 15%
Among the 44 states in which independents outnumber party-affiliated voters, Alaska is 54% independent (26% Republican and 14% Democrat), Massachusetts stands at 53% independent (35% Democrat and 11% Republican), and Idaho boasts 51% independent voters (39% Republican and 9% Democrat).
-Noel Brinkerhoff
To Learn More:
The American Values Atlas (Public Religion Research Institute)
8 States Where Party Registration Lags Behind Independent Registration (by Hannah Glover, IVN)
Americans Identifying as Independents Hits Record High as Republican ID Drops to 30-Year Low (by Noel Brinkerhoff, AllGov)