Americans Identifying as Independents Hits Record High as Republican ID Drops to 30-Year Low
Thursday, January 09, 2014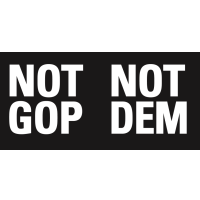 Americans' movement away from political parties continued last year, with the number of independents reaching a record high.
The shift came, as it has in other years, at the expense of the Republican Party, whose identification is now at a 30-year low.
Gallup says 42% of Americans identified as political independents in 2013. That's the highest rate since the longtime survey company switched to phone interviews in 1989.
The GOP's popularity declined last year, with only 25% of respondents claiming to be Republican. Gallup's Jeffrey Jones wrote that the last time the party's ID was lower was 1983, when it dipped to 24% amid President Ronald Reagan's struggle to bring the country out of recession.
"Americans' increasing shift to independent status has come more at the expense of the Republican Party than the Democratic Party," Jones wrote. "Republican identification peaked at 34% in 2004, the year George W. Bush won a second term in office. Since then, it has fallen nine percentage points, with most of that decline coming during Bush's troubled second term. When he left office, Republican identification was down to 28%. It has declined or stagnated since then, improving only slightly to 29% in 2010, the year Republicans 'shellacked' Democrats in the midterm elections."
As for the Democratic Party, its identification stands at 31%--the same level it's been for the past four years. It was at 36% when President Barack Obama first won the White House in 2008.
-Noel Brinkerhoff
To Learn More:
Record-High 42% of Americans Identify as Independents (by Jeffrey Jones, Gallup)
62% of Americans Believe the Republican Party is Out of Touch, and 36% of Republicans Agree (by Noel Brinkerhoff, AllGov)
Below the Radar, a Good Year for Independent and Third-Party Senate Candidates (by Noel Brinkerhoff, AllGov)