Immigration Service Sued after Trying to Deport Legal Immigrant because of its own Bungled Paperwork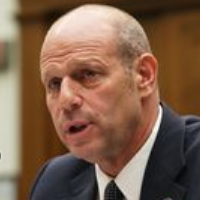 USCIS Director Leon Rodriguez (photo: Getty Images)
The U.S. Citizenship and Immigration Services (USCIS) is being sued by a legal immigrant it is trying to deport because the agency has repeatedly screwed up her paperwork.
Rosalba Vargas-Ortiz has lived legally in the United States for more than two decades. The immigration service says they have no record of her and that she should be deported. But according to Vargas-Ortiz, the agency has bungled her immigration paperwork numerous times, Philip Janquart of Courthouse News Service reported.
In 1988, USCIS gave Vargas-Ortiz a temporary residency permit—with the wrong name and birthdate. She told the agency about the errors. Four years later, officials issued her a green card—with a new wrong name and the same wrong birthdate. Again, she pointed out the mistakes.
In 2002, Vargas-Ortiz renewed her green card—and, yes, the agency gave her a new wrong name and a new wrong birthdate. For the third time, she informed USCIS about the errors, which they claimed would be fixed, but she never received documentation of the corrections.
In 2008, she applied for a replacement green card—and got one with the wrong name and the wrong birthdate.
In response to her complaint, agency lawyers said they had no record of her in their system. "When the plaintiff attempted to renew the card through submission of yet another form and required fee ... the defendants denied the application without explanation," her complaint states. "Even worse, the defendants invented a new alien number for her and referred her to immigration court for removal proceedings. The defendants ... effectively erased her record of lawful status in this country without following the established procedure for rescinding an individual's permanent resident status."
USCIS asked the judge, Candy Dale, to dismiss the case. Dale, however, said the lawsuit should continue because the two stories in the case "directly contradict each other."
Vargas showed the court three documents with her photograph and fingerprints, issued by USCIS. Dale wrote in her ruling: "Despite evidence of the issuance of the cards, defendants claim plaintiff never applied for residency status, and do not explain what might have happened to her file."
The judge also found it perplexing that the agency can't explain the documents in Ortiz's possession. "Defendants do not explain how plaintiff obtained the various immigration documents bearing her photograph and fingerprints, nor do they dispute the allegations in plaintiff's complaint that she possessed such documents," the judge wrote.
-Noel Brinkerhoff
To Learn More:
Immigration Agency Puzzles Federal Judge (by Philip Janquart, Courthouse News Service)
Rosalba Vargas-Ortiz v. John McCarthy (U.S. District Court, Ohio) (pdf)