Hawaii Passes Criminal-Monitoring Gun Law Said to Be First of Its Kind in U.S.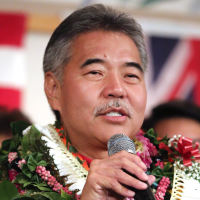 Gov. David Ige (photo: Twitter)
By Julie St. Louis, Courthouse News Service
HONOLULU (CN) — The 50th state has become the first in the nation to step up monitoring of firearms with the signing of new legislation in Hawaii on Wednesday.
Senate Bill 2954, which Gov. David Ige signed into Act 108, authorizes county police departments in Hawaii to have a criminal-record-monitoring service keep tabs on individuals who apply for and register their firearms.
The system, known as Rap Back, is a service of the FBI that provides continuous criminal-record monitoring for law-enforcement agencies.
When a Hawaii firearm owner is arrested for a criminal offense anywhere in the country, the service alerts county police departments in Hawaii.
Law enforcement then will be able to evaluate whether that gun owner may continue to legally possess and own firearms.
"This is about our community's safety and responsible gun ownership," Ige said in a statement. "This system will better enable our law enforcement agencies to ensure the security of all Hawaii residents and visitors to our islands. This bill has undergone a rigorous legal review process by our Attorney General's office and we have determined that it is our responsibility to approve this measure for the sake of our children and families."
The Senate bill also authorizes the Hawaii Criminal Justice Data Center to access firearm-registration data.
Predictably, the legislation inspired criticism from gun enthusiasts.
"The lawful acquisition, possession, carrying, or use of a firearm does not justify subjecting citizens to ongoing monitoring," the National Rifle Association's Institute for Legislative Action said on its website.
Gov. Ige also signed two bills relating to firearms on the House side of Legislature: HB 625 or Act 109, and HB 2632 or Act 110.
Act 109 specifies that harassment by stalking and sexual assault are among the offenses that disqualify a person from owning, possessing or controlling any firearm or ammunition.
The issue of domestic abusers banned from owning firearms is one the U.S. Supreme Court is expected to decide Monday. Voisine v. United States is one of three cases that will close out the high court's term.
Hawaii's other piece of legislation speaks to a different issue before the national courts. Act 110 requires firearms owners to surrender their weapons and ammunition to the chief of police if they have been diagnosed with a significant behavioral, emotional or mental disorder. An emergency or involuntary hospitalization to a psychiatric facility will also trigger disqualification.
The Sixth Circuit, a federal appeals court based in Cincinnati, grappled with the involuntary-commitment-gun-ownership issue at an en banc hearing in October.
Sen. Will Espero, a Democrat, introduced Act 108, the most notable of the three acts.
The Honolulu Civil Beat quoted Espero as saying Gov. Ige's signing of the bill would "make Hawaii a national leader in safe gun laws and a model for other states."
Of all 50 states Hawaii has the lowest gun-death rates, according to the most recent data from the Violence Policy Center.
Federal lawmakers have seen much less success passing similar legislation, even in the wake of the deadliest shooting in U.S. history at the gay nightclub Pulse Orlando on June 12.
To Learn More:
Senate Bill 2954 (State Senate, Hawaii)
Majority of Americans Want Background Checks for all Gun Sales and a Ban on Assault-Style Weapons (by Noel Brinkerhoff, AllGov)