Gallup Lawsuit Settlement Could Benefit Republicans in Future Opinion Polls
Wednesday, August 05, 2015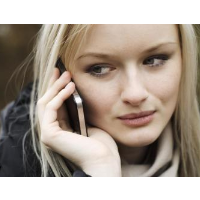 Credit: Cultura / Attia-Fotografie / Riser / Getty
The polling firm Gallup has settled a multimillion dollar lawsuit that claimed it robo-called cell phones, which is a violation of federal law. The case that could have a chilling effect on pollsters' ability to accurately gauge public opinion and make it appear that Republicans have more support than they actually do.
Gallup was named in a class-action lawsuit (pdf) for violating a law that prohibits making making "any call . . . using any automatic telephone dialing system or an artificial or prerecorded voice." Gallup denied having done this, but settled the suit for $12 million.
The settlement may now cause Gallup and other polling firms to think twice before calling mobile phone users. Those who use mobile phones exclusively include many young people and Latinos. That group also tends to skew Democratic.
"According to one dataset, cell phone-only voters preferred Democrats to Republicans by 11 points in 2012, while voters reached on landlines only preferred Democrats by 2 points," according to ThinkProgress.
Poll results don't only give a snapshot of public opinion. They also affect elections, encouraging undecided to vote for front-runners. Those leading in polls often collect more donations than also-rans.
-Noel Brinkerhoff, Steve Straehley
To Learn More:
An Obscure Lawsuit Could Skew Polls In Favor Of Republicans (by Ian Millhiser, ThinkProgress)
Gallup Settles $12 Million Lawsuit over Calls to Cell Phones (by Mark Blumenthal, Ariel Edwards-Levy and Janie Velencia, Huffington Post)
Complaint: Kurt S. Soto v. The Gallup Organization (U.S. District Court, Southern District of Florida) (pdf)
Senate Bill would Add Political Groups to Do-Not-Call Lists (by Steve Straehley, AllGov)