Foreign Politicians Want Trump to Stop Sending Emails Asking for Campaign Donations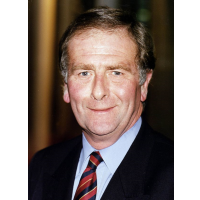 Sir Roger Gale
By Laurie Kellman, Associated Press
WASHINGTON (AP) — Call it 'Trexit.'
Members of the British Parliament and other foreign politicians want off Donald Trump's email list, and are seeking to block the presidential candidate from asking them for campaign donations.
"Please stop sending begging letters to MPs," tweeted Stuart McDonald, a member of the British Parliament. "It's pathetic."
A pair of watchdog groups notes that the practice is not just annoying, it's illegal.
"Donald Trump should have known better," said Paul S. Ryan of the Campaign Legal Center, which with Democracy 21 is filing a complaint to the Federal Election Commission.
It's true that federal election law is designed to keep foreign cash out of U.S. political campaigns. It's also true that Trump is revving up a fundraising operation after federal reports showed he raised about a tenth of what Democrat Hillary Clinton has raised during the most recent reporting period.
Trump is now sending millions of Americans emailed appeals for campaign cash. In one day last week, Trump collected $3 million in campaign contributions — as much as he did in the entire month of May. He had asked for donations of $10 or more, with the promise of adding $2 million of his own money.
Trump's campaign, fresh from a visit to Scotland last week, apparently also has sent solicitations to foreign politicians. The watchdog groups cited news reports saying politicians in Iceland, Australia, Britain and Scotland have received such missives.
Sir Roger Gale appealed to the speaker of the British House of Commons on Tuesday to block Trump's campaign appeals.
"Members of Parliament are being bombarded with electronic communications from Team Trump on behalf of somebody called Donald Trump," Gale said to House of Commons Speaker John Bercow. "I am all in favor of free speech, but I do not see why colleagues on either side of the House should be subjected to intemperate spam."
Bercrow sympathized, noting that Gale must have "undergone an irritating and — some might think — exceptionally tedious experience." He agreed that MPs should not be "bombarded with emails the content of which is offensive" and pledged to advise Parliament's digital service to block Trump's emails.
Trump campaign spokeswoman Hope Hicks did not immediately respond to a request for comment.
To Learn More:
Rise of Trump Elicits Shock, Outrage and Panic across Europe (by Dan Bilefsky, New York Times)
British Lawmakers Debate Pros and Cons of Banning Trump from Britain (by Kylie MacLellan, Reuters)