For the First Time, Forest Service Needs Half its Budget for Fighting Fires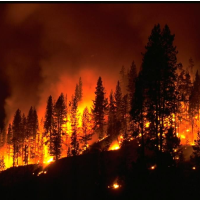 (photo: NOAA)
The U.S. Forest Service, whose mission is to manage the nation's forests, now spends the majority of its money trying to keep them from burning down.
With massive wildfires becoming increasingly common in the West, the Forest Service has had to allocate far more resources than it used to do to battle conflagrations.
Twenty years ago, the agency spent 16% of its budget on fire suppression. Today, the Forest Service is burning up 52% of its monies fighting forest fires.
Not only are "mega-fires" occurring more often, but the fire season itself has gotten longer—by 78 days since 1970. Additionally, the total number of acres burned each year has doubled since the 1980s.
Things are expected to get only more challenging for the agency when it comes to forest fires as a result of climate change and its impact on the environment. The worst fire seasons on record have all occurred since 2000, and last year the country's 10 biggest fires cost the Fire Service $320 million, according to the agency.
Agriculture Secretary Tom Vilsack, who oversees the Forest Service, has called on Congress to increase the agency's budget because other priorities are suffering due to so much funding going to fire suppression.
"Meanwhile, everything else suffers, from the very restoration projects that have been proven to reduce the risk of catastrophic wildfires in the future, to watershed projects that protect drinking water for one in five Americans, to recreation projects that support thousands of jobs and billions of dollars of economic activity," Vilsack said in a statement, according to Courthouse News Service. "The time has come for Congress to change the way it funds the Forest Service."
-Noel Brinkerhoff
To Learn More:
The Rising Cost of Fire Operations: Effects on the Forest Service's Non-Fire Work (U.S. Forest Service) (pdf)
Wildfires Draining Forest Service Budget (by Nick Cahill, Courthouse News Service)
Forest Service Predicts Shortfall of Funds Needed to Fight Wildfires This Year (by Steve Straehley, AllGov)
The Rising Cost of Wildfires (by Noel Brinkerhoff, AllGov)