Florida Sheriffs Used SWAT-Style Attack to Enforce Barbershop License
Saturday, September 20, 2014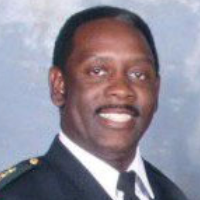 Orange County Sheriff Jerry Demings
Florida sheriff's deputies, under the guise of checking professional licenses, raided an Orlando-area barbershop using SWAT-like tactics back in 2010 and now a federal appeals court has ruled that the search was illegal.
In a ruling that allows a lawsuit against the department to proceed, the Eleventh Circuit Court of Appeals strongly criticized the Orange County Sheriff's Office for storming the Strictly Skillz barbershop four years ago. "With some team members dressed in ballistic vests and masks, and with guns drawn, the deputies rushed into their target destinations, handcuffed the stunned occupants—and demanded to see their barbers' licenses," the court wrote. The raid was one of several deputies carried out against minority-owned barbershops and salons in 2010.
The justices said the deputies went too far in using a SWAT-like approach just to check whether barbers were licensed. In fact, inspectors from Florida's Department of Business and Professional Regulation (DBPR) had inspected Strictly Skillz only two days prior to the raid and found everything in order.
Describing the raid as a "scene right out of a Hollywood movie," the panel of judges wrote: "Unlike previous inspections of Strictly Skillz...the August 21 [2010] search was executed with a tremendous and disproportionate show of force, and no evidence exists that such force was justified." The Fort Lauderdale Sun Sentinel reported that "no illegal or unlicensed activity was found" at the Pine Hills barbershop.
Working with DBPR, the deputy sheriffs claimed they suspected unlawful activity had taken place at the shop, which caters to minority customers, and others like it.
Tuesday's ruling was a result of two deputies, Keith Vidler and Travis Leslie, petitioning that they should be immune from any civil litigation brought against them for doing their jobs. But the judges rejected their position, noting that they had twice before ruled in other cases that those participating in a warrantless criminal raid were not entitled to immunity. "Today, we repeat that same message once again," the court wrote. "We hope that the third time will be the charm."
Both the DBPR and the Sheriff's Office launched internal investigations following a report by the Orlando Sentinel exposing the raids.
The DBPR terminated several employees and settled out of court with barbers. But the Sheriff's Office concluded deputies did nothing wrong.
-Noel Brinkerhoff, Steve Straehley
To Learn More:
Excessive Force Used in 2010 Barbershop Raid, Appeal Court Says (by Jeff Weiner, Fort Lauderdale Sun-Sentinel)
SWAT-Style Barbershop Raid Nets Harsh Rebuke (by Lorraine Bailey, Courthouse News Service)
Brian Berry v. Travis Leslie (Eleventh Circuit Court of Appeals) (pdf)