First College to Offer Scholarships for Competitive Video Gamers
Wednesday, December 10, 2014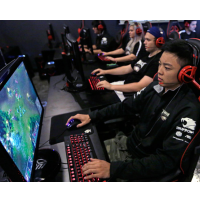 Freshmen video gamers at Robert Morris University (AP photo)
Video game competitions have become so popular among college students that one small private university in Illinois has become the first institution of higher education to offer scholarships to gamers.
At Robert Morris University, gamers now are on the same level as football players: both receive scholarships from the school's athletic department. The school is also promoting the achievements of e-sports competitors through a new video that came out this fall.
The numbers demonstrate just how big e-sports has become. The largest collegiate gaming league, according to The New York Times, has 10,000 students. By comparison, Division I basketball has about 5,000 players.
"This is just how basketball was in the 1940s," Christopher Wyatt, senior manager for North American publishing at Riot Games told the Times. "A lot of the structure and organization you see in more formal athletics, that groundwork is still being laid down here."
In addition to Robert Morris, diehard gamers can win scholarship money through various gaming competitions. Those funds are provided by the game companies, which see it as a valuable public relations maneuver that serves to deepen their relationship with the players.
"Game developers are really waking up to the publicity power of these communities," T. L. Taylor, an associate professor at the Massachusetts Institute of Technology told the Times.
Blizzard Entertainment offered $5,000 in scholarship funds to the winner of its Hearthstone virtual game tournament. Gaming media company Azuba sponsored an event that gave out $40,000 in prize money to six students from UC Berkeley.
Riot Games awarded $7,500 in scholarship money at one competition and plans to give out $30,000 at a championship event next spring. Its North American Collegiate Championship carries a total prize pool of $100,000 in scholarships.
At Morris University, the first 35 students to get scholarships in the college's e-sports program will have up to 50% of their $39,000 annual cost of tuition, room and board paid for.
-Noel Brinkerhoff, Danny Biederman
To Learn More:
E-Sports at College, With Stars and Scholarships (by Nick Wingfield, New York Times)
League Of Legends Becomes An Official Varsity Sport At Robert Morris University (by Andy Chalk, PC Gamer)
Scholarships Available For Video Gamers (by Jason Keyser, Associated Press)
Open House (Robert Morris University)
U.S. Issues First Working Visa to Professional Video Game Player (by Noel Brinkerhoff, AllGov)