Federal Bureaucrat (and Lobbyist) Earned $143,000 a Year to Work 4 Hours a Week
Saturday, September 12, 2015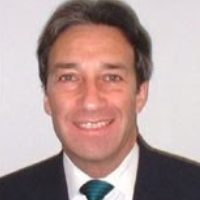 Jeffrey L. Farrow (photo: The Oliver Group)
It might be difficult to find a sweeter job in Washington than the one Jeffrey Farrow has. As executive director of the Commission for the Preservation of America's Heritage Abroad, which preserves and protects foreign monuments and buildings, Farrow works only four hours a week but collects an annual salary of $143,000.
With all that free time, Farrow has also been able to hold a side job—as lobbyist for Puerto Rico and the island nation of Palau, which earned him $820,000 last year.
Concerns about Farrow's "lax work schedule," as Government Executive put it, were first raised two years ago by the General Services Administration's (GSA) inspector general. Farrow has held his executive director position since 2001.
The GSA IG also found the commission agreed to pay Farrow $104,000 per year to work eight hours per week. "Instead, he took the higher salary and worked less than the scheduled amount," Eric Katz reported at Government Executive. His $143,000 government salary represented nearly 25% of the commission's annual budget.
Now, Senator Ron Johnson (R-Wisconsin) is looking into Farrow's arrangement at the commission. Johnson, chairman of the Homeland Security and Governmental Affairs Committee, says he's unsure if Farrow "shares any personal involvement in the important mission of the commission."
"Instead," Johnson continued, "his taxpayer-funded job at the commission seems to have been merely one more source of income for him."
Johnson sent the commissioners a letter (pdf) outlining his concerns, including whether Farrow, who was formerly a Clinton administration official, has been running his lobbying business out of his government office using taxpayer-funded supplies and equipment.
-Noel Brinkerhoff
To Learn More:
Registered Lobbyist Earned $143K Federal Salary for 4-Hour Government Work Week (by Eric Katz, Government Executive)
Emails Show Hillary Clinton Exchanges With Foreign Lobbyist (by Gabriel Debenedetti, Politico)