Expert Witness in Bank Terrorism Financing Case Admits She can't Read Arabic
Saturday, September 13, 2014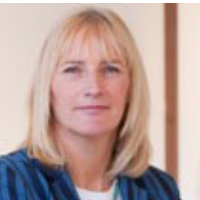 Beverely Milton-Edwards (photo: Queen's University)
A leading Middle East bank is fighting in a U.S. courtroom to keep from getting punished for allegedly helping finance terror operations by Hamas in Israel. To bolster its case, Arab Bank enlisted the help of Beverley Milton-Edwards, a professor in the School of Politics, International Studies and Philosophy at Queens's University in Belfast and co-author of Hamas: The Islamic Resistance Movement.
Milton-Edwards testified during the civil case, which was brought by the families of 300 victims of suicide attacks in the West Bank, that she found no evidence while researching her book of Hamas being involved in regional charities.
But prosecutors discovered that she couldn't read Arabic. After being asked to read the printed text on a Hamas-sponsored image, Milton-Edwards admitted she could not. "No, I can't," she said in response to the request, according to Nick Divito of Courthouse News Service. "It's in Arabic." She further said she could speak the language, but "can't read Arabic any longer."
Prosecutors then grilled her about her previous testimony and claims of not witnessing any Hamas involvement in the charities, saying "you can't read materials that actually say the word 'Hamas' on them, can you?"
Milton-Edwards reportedly replied: "No. As I said to you when you pointed it out, because you asked me to read the slogan at the bottom, I can't read the slogan at the bottom. We agreed you said that at the end, 'Hamas,' and I said that is an H and an S, which is the acronym for Hamas. I can identify things like that. That's different from 'can I read sentences in Arabic?' which I think is what you are asking."
Laura Cilmi, a spokeswoman for the bank, said Milton-Edwards "never said she read Arabic," and that her testimony was "that she spoke it."
Arab Bank is being accused assisting the Saudi Committee for the Support of Intifada Al Quds, which is said to pay the families of terrorists killed in attacks. Some banking officials are concerned that a guilty verdict against Arab Bank would make all banks liable for the misdeeds of their customers. The case is the first to go forward under the U.S. Anti-Terrorism Act of 2001.
-Noel Brinkerhoff
To Learn More:
Terror Case Star Witness Can't Read Arabic (by Nick Divito, Courthouse News Service)
Alleged Terror Backers Sullied by Hamas (by Nick Divito, Courthouse News Service)
First Civil Case against Bank under 2001 Anti-Terrorism Act Opens (by Noel Brinkerhoff, AllGov)