Egg Lobby Launched Major Campaign to Defeat Vegan Egg Replacement Startup
Tuesday, September 08, 2015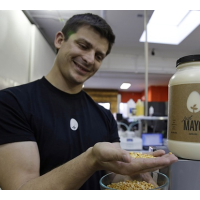 Hampton Creek Foods founder Josh Tetrick--Eric Risberg, AP
The egg industry in the U.S. has tried to squash a startup company specializing in eggless products.
The Guardian and the Associated Press say they uncovered emails from lobbyists representing egg producers that targeted the sales of Hampton Creek, which produces a mayonnaise that contains no eggs.
The egg replacement company was seen as a threat to the $5.5 billion-a-year egg industry, prompting the American Egg Board (AEB) to launch a campaign to keep Hampton Creek from becoming successful.
The campaign targeted prominent publications, high-profile food bloggers, and even a celebrity chef to help in the fight against Hampton Creek, viewed as a "crisis and major threat to the future" of the egg industry. One egg board executive is said to have joked about having Hampton Creek founder Josh Tetrick killed.
The AEB's actions may have constituted a violation U.S. Department of Agriculture (USDA) rules that prohibit "any advertising (including press releases) deemed disparaging to another commodity."
The anti-Hampton Creek campaign included:
· Targeting such publications as Forbes and Buzzfeed for their favorable articles about Hampton.
· Confronting Travel Channel host Andrew Zimmern after he featured Hampton Creek on his popular show Bizarre Foods.
· Attempting to stop Whole Foods grocery stores from carrying Hampton's Just Mayo product.
· Purchasing and positioning AEB-backed ads to appear during Google searches for Hampton Creek or founder Josh Tetrick.
· Trying to recruit animal rights and autism activist Temple Grandin and the bestselling author and blogger Ree Drummond to publicly support the egg industry.
"They have gone way beyond what they are allowed to do," said Tetrick, who has requested a congressional inquiry, according to The Guardian. "They are not used to competition and they don't know how to deal with it." A petition started on the White House website, calling for an investigation of the USDA itself over its role in the affair, has garnered thousands of signatures.
-Noel Brinkerhoff, Danny Biederman
To Learn More:
U.S.-Appointed Egg Lobby Paid Food Blogs and Targeted Chef to Crush Vegan Startup (by Sam Thielman, The Guardian)
From Eggs To Trees, USDA Promotional Programs Controversial (by Mary Clare Jalonick, Associated Press)