Drones are Catching On…with Pranksters and Criminals
Friday, November 28, 2014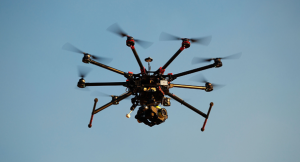 Getty Images
Just as home computers—once a novelty, now an everyday appliance—were quickly adapted for uses far different than their makers intended, drones are now being used for mischief and even more serious troublemaking.
One drone was famously used in Belgrade in October to fly a Greater Albania flag over a soccer match between Serbia and Albania. A Serbian player was able to grab the flag, which led to a fight between the teams. In another incident, a University of Texas student got in hot water when flying a drone over 93,000 people in that school's football stadium during its season opener in August.
Drones can now be purchased for about $500, well within the budget of many. Consequently, the global civilian drone market has skyrocketed by 45% since last year. World sales figures for 2014 are estimated to be $450 million, according to Teal Group, an aerospace research firm.
"It's now in the hands of all types of people—good people, bad people, tricksters, pranksters, kids," Patrick Egan, a consultant on commercial drone projects and editor at sUAS News, a drone news site, told The New York Times. "All hell is going to break loose as far as the shenanigans that are perpetrated with drones."
But it's not just pranksters using the aircraft. One drone crashed earlier this year as it was bringing a cargo of cellphones, marijuana and tobacco into the Lee Correctional Institution, a South Carolina prison. Authorities are unsure if possible previous flights had gone undetected. Two New Jersey men were charged in September with using a drone to case the roofs of cellphone retailers to find ways to break in. One of the pair was found with dozens of cellphones and a drone in his car, according to CBS New York. The Federal Aviation Administration is also getting an increasing number of reports from commercial pilots about drones flying around busy airports such as New York's LaGuardia.
People for the Ethical Treatment of Animals (PETA) is selling drones to be used to detect and document illegal hunting. However, some hunters claim that PETA's real goal is to scare away the game sought even by those hunting legally.
So, just as society has had to adapt to the dark side of computers, it will have to find ways to deal with drones used for purposes both good and bad.
"It would be the rare technology," Ryan Calo, a law professor at the University of Washington who studies drones, told the Times, "that some people didn't abuse."
-Steve Straehley
To Learn More:
Now, Anyone Can Buy a Drone. Heaven Help Us. (by Nick Wingfield, New York Times)
Drones Being Used 'to Harass People and Commit Crime' (The Week)
Cops Say Criminals Are Going High-Tech, Using Drones to Case Victims (CBS New York)
SoCal Man Monitors Police with His Own Drone (by Ken Broder, AllGov California)
Federal Government Clashes with Commercial Drone Industry (by Matt Bewig, AllGov)
Just a Drone Prank or Signs of the Times in the Bay Area? (by Ken Broder, AllGov California)