Doomsday Seed Vault Adds Tree Seeds for First Time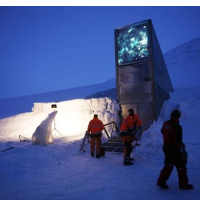 Guards outside the Svalbard Global Seed Vault (photo: John McConnico, AP)
Seeds from Norway spruce and Scotch pine will be the first from forest trees to be stored in the Svalbard Global Seed Vault, located deep within the Arctic mountains of a remote island in Norway's Svalbard Archipelago.
The vault, which was opened in 2008, is designed to be a storage site of last resort for millions of species of plants. Seed banks from around the world store seeds there, until now mostly for food crops, in the event that a cataclysmic event destroys a crop elsewhere. The Svalbard seeds then could be used to restart the plant species.
There are 840,000 varieties of food crops in the vault. Tree seeds were added to back up existing conservation sites. "The possibility to have seed samples stored in the vault is a great opportunity to complement our forest tree gene conservation, which is based on in situ gene reserve forests," Mari Rusanen, a researcher for Natural Resources Institute Finland, told the BBC.
There are 218 tree seed lots, provided by the Norwegian Forest Seed Center, that were selected for the vault. The oldest one, from 1938, is a pine sample from Tranøy in Norway that still has a 78% germination potency.
Genetic diversity is the main, but not only, reason for depositing tree seeds in the vault, said Brian Lainoff of the Crop Trust which manages Svalbard. "The genetic diversity of forest tree species worldwide is influenced by a number of factors, of which climate change and forest management activities are most important for the major forest tree species," he said. "Fragmentation of populations, browsing, pests and diseases are other factors of varying importance."
The forest tree seed storage at Svalbard has the participation of five Nordic countries—Denmark, Finland, Iceland, Norway and Sweden, with more to follow from nations across the globe.
The United States is one of the many countries that contributes to Svalbard. The U.S. Department of Agriculture recently donated samples of barley, soy bean, lentil, sorghum and wheat to Svalbard.
The design of the vault, cut deep into rock and permafrost 800 miles from the North Pole, ensures that it will survive all human and natural disasters. Even if power to the site is cut, the frozen seeds will remain viable for a long time. "The vault can therefore be considered the ultimate insurance policy for the world's food supply," according to Crop Trust. "It will secure, for centuries, millions of seeds representing every important crop variety available in the world today."
And when they say every important crop variety, they mean every. Marijuana.com reports that there are about 21,500 cannabis seeds in the vault, some even stored there by North Korea. There are none from the United States, however.
-Steve Straehley
To Learn More:
Forest Seed Destined for Svalbard (Government of Norway)
Forest Tree Seeds Arrive at Svalbard's 'Doomsday Vault' (by Mark Kinver, BBC News)